Arts
Musical tells story of jazz, R&B pioneer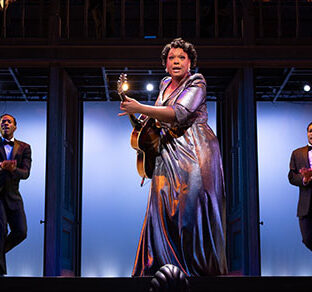 Carrie Compere plays Sister Rosetta Tharpe in Shout, Sister, Shout! The new musical is playing at Ford's Theatre through May 13.
Photo by André Chung
In the 1940s, an Arkansas woman with an electric guitar began playing gospel music in night clubs, and music has never been the same.
Shout, Sister, Shout!, now playing at the historic Ford's Theatre, is a unique and meaningful musical about her life. Written by Cheryl L. West and based on a biography by Gayle F. Wald, it is the story of Sister Rosetta Tharpe (1915-1973), an influential American gospel singer, guitarist, jazz performer and early pioneer of rock and roll.
Tharpe is played to perfection by Carrie Compere. She wonderfully shows how her character's initial shyness gradually blossoms into transcendent charisma, edging into jadedness late in her career.
Compere's scenes with her Pentecostal mother, Katie Bell Nubin, compellingly portrayed by Carol Dennis, are particularly powerful.
Family conflict, self-doubt explored
Indeed, their relationship anchors the show, as it fluctuates between simple parental love, to a conflict over Rosetta's "sinful" decision to become a secular performer at Harlem's Cotton Club nightclub venue, and eventual reconciliation and mutual respect between mother and daughter.
Yet the show does not only depict parent-child conflict. It also examines Sister Rosetta's own complex feelings, and occasional doubts, about both her religious upbringing and her rising fame.
These manifest as she wrestles with her relationship with performing partner Marie Knight (memorably acted and sung by Felicia Boswell), as well as with the varied reactions of her fellow churchgoers to her bringing gospel music into popular settings and blending it with other musical forms.
Tharpe also feels obliged to counter accusations that she "borrowed" from Elvis Presley, pointing out instead that Presley and rock and roll were instead influenced by her, along with African American churches' musical traditions and rhythm and blues.
A very welcome aspect about the production is that some of the songs associated with Tharpe are not merely performed but incorporated into the plot. For example, "Lonesome Road" is sung by her mother as Rosetta is leaving home, traveling down a "lonesome road" to follow her dreams.
Jazz greats make cameos
Fans of jazz will enjoy the inclusion into the musical storyline of jazz music greats Dizzy Gillespie (played by a charismatic Keenan McCarter) and Cab Calloway.
Joseph Anthony Byrd as Calloway is particularly impressive in channeling the legendary swing bandleader and showman — gliding across the stage while conducting, dancing and lending his full personality to the bygone era of the Cotton Club.
Kelli Blackwell does a wonderful turn singing as famed gospel singer Mahalia Jackson.
When it comes to great musical personalities of the past, we would like to have seen more exposure given to Lucky Millinder (depicted well by David Rowen).
Here he is presented primarily as an obstacle to Tharpe. In real life, though, many of her signature tunes, including "Rock Me," "That's All," "Down by the Riverside," and even the show's title song "Shout, Sister, Shout" (all performed engagingly within the show), were recorded at one point with Millinder and his swing orchestra.
Millinder, somewhat like Sister Rosetta Tharpe herself, has been neglected despite his contributions to American popular music, and this musical would have been an effective opportunity to correct this unjustified obscurity.
Top-notch direction, choreography
The direction by Kenneth L. Roberson is excellent, and the choreography by William Carlos Angulo is superb, especially in the sequences with jazz, doo-wop and gospel numbers.
For the fine orchestrations, equal credit is due to arranger and orchestrator Joseph Joubert and music director Sheilah V. Walker.
Indeed, all of the ensemble performances are toe-tapping. One particularly impressive one occurs when Sister Rosetta is introduced to the infectious sounds of the new swing music, and joins in on a performance of the Jimmie Lunceford classic "Four or Five Times."
We attended a matinee performance during the week, when school groups were also attending. Ford's Theatre hands out a brochure for young audience members, asking pupils to list books, films, albums and role models that have gone into forming their identities, paralleling Sister Rosetta Tharpe's development of identity and sense of self through her musical artistry.
Perhaps this question should be considered not just by elementary, middle school and high school students, but by all who enjoy this meaningful and entertaining production.
Shout, Sister, Shout! appears at Ford's Theatre through May 13. Senior discount available to people over 60 for matinee performances. Tickets are available at fords.org or by calling 1-888-616-0270.