Arts
Mystery novels by prolific older authors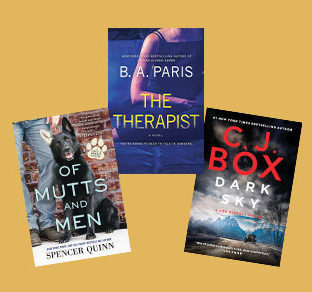 The Bibliophile
This summer, enjoy these mysteries, which run the gamut from suspense to adventure to whimsy.
The Therapist: A Novel, You're Going to Need to Talk to Someone, by B. A. Paris, 298 pages, St. Martin's Press hardcover, 2021
This thriller has all the elements of a classic Hitchcock movie: murder most horrid, a haunted house, forgery, rumor and gossip run amok, amateurs sleuthing down wrong rabbit holes and a main character with deep psychological scars. (By the way, Alfred Hitchcock was born 123 years ago this month on August 13, 1899.)
The action takes place in a small, exclusive gated community in London. The plot is nicely encased by an idyllic milieu and populated by the kind of individuals one might encounter in the tony suburbs.
The therapist, who treated clients in her home office, was killed in her bedroom. Her husband subsequently committed suicide. It is assumed he killed her — but did he?
Alice and Leo move into the renovated home. Alice is unaware of its backstory. What about Leo?
Alice, who has lived her entire life in a small rural town, finds cosmopolitan London overwhelming. She met Leo by chance encounter. He is reticent about his past, claims to have no family ties, and is secretive about his professional work.
Like most great tales of suspense, the premise builds on commonplace anxieties. Pulling up roots and moving a long distance into a new home can pose a web of challenges. Trying to find friends among a close-knit group of neighbors can be difficult, especially if they seem judgmental or have secrets they don't wish to share.
B. A. Paris is the pen name of Bernadette MacDougal, a married Franco-British mother of five who is in her 60s. This is her fifth novel.
Dark Sky: A Joe Pickett Novel, by C. J. Box, 351 pages, G. P. Putnam's Sons paperback, 2021
Wyoming fish-and-game warden Joe Pickett is attuned to the expansive range where hunters gather every fall to hunt elk. He is a decent man, a devoted husband and father of three daughters.
Battle Mountain is a place of beauty and treacherous conditions. It is a magnet for those who seek to conquer the wild through wiles, skill and technological innovation.
Wyoming's governor assigns Pickett to personally accompany social media billionaire Steve Price and his hunting party. Warden Joe is put off by the airs of the big-city big shot and his entourage of two sycophants.
What starts as a lark when the overindulgent, arrogant and voluble billionaire arrives by private jet becomes a deadly trap. In Dark Sky, the hunters become the hunted. Three harrowing days of suspense and death ensue.
The Western Writers of America honored Dark Sky with the 2022 Spur Award for best contemporary novel. Author C. J. Box, a native of Wyoming, is in his 60s.
Of Mutts and Men: A Chet and Bernie Mystery, by Spencer Quinn, 316 pages, Forge Trade paperback, 2021
In this mystery, PI Bernie Little and his canine sidekick Chet solve the murder of hydrologist Dr. Wendell Nero, chairman emeritus of the geology department of Valley College.
Then doubts emerge. Another victim is murdered in the same manner as Dr. Nero, while the man they had collared is imprisoned.
Bernie and Chet follow the trail of crime and corruption. It leads them through mansions and office towers, convenience stores and isolated trailers, dangerous roadways across the border, an obscure vineyard and a posh restaurant.
Of Mutts and Men is partially narrated by Chet. The stream of consciousness of this savvy canine is a delightful combination of reveries: salivating about his favorite foods, ruminating about his skill in identifying smells, and observing the behavioral antics of his fellow dogs — or as he refers to them, the nation.
Chet is not always on mark in his attempts to decipher human behavior, so his hypotheses are humorous, if not always accurate. That's what makes this mystery disarming and endearing.
Spencer Quinn is the pen name of septuagenarian Peter Abrahamson. The Chet and Bernie series first appeared in 2009. There are 13 novels in all. Track them down.