Arts
New and old musicals come to National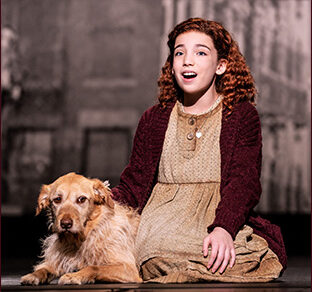 National Theatre's upcoming season includes "Annie" and other well-known (as well as new) musicals.
Photo by Matthew Murphy/ Evan Zimmerman/MurphyMade
Another season of top Broadway shows on tour is coming to the National Theatre in downtown Washington, D.C.
"We're always thrilled to give Broadway fans a wonderful night out in the heart of the District," said Ryan Baker, marketing director of the National Theatre.
The first, Mrs. Doubtfire, known as "everyone's favorite Scottish nanny," will run October 10 to 15. Based on the beloved film, which starred the late Robin Williams, the story revolves around an out-of-work actor who will do anything for his children.
After losing custody in a complicated divorce, he creates a kindly alter ego of Scottish nanny Euphegenia Doubtfire to stay in his children's lives. As his new character takes on a life of its own, Mrs. Doubtfire teaches Daniel how to be a father.
Next comes The Wiz! Playing from October 24 to 29. The classic Frank L. Baum tale of Dorothy's journey to Oz gets a contemporary setting and a score replete with soul, gospel, rock and 1970s funk.
Continuing the line-up of musicals based on Hollywood films is Pretty Woman: The Musical, playing from December 12 to 17.  The cinematic romantic story springs to life with a powerful creative team led by two-time Tony Award-winning director and choreographer Jerry Mitchell.
The new year finds Annie at the National from January 23 to 28, 2024. Little Orphan Annie and Daddy Warbucks have reminded generations of fans of the comic strip, films and musical that "the sun will come out tomorrow."
Next, a more edgy sort of musical comes to the National in the form of The Book of Mormon. Despite the religious-sounding title, this nine-time Tony Award-winning Best Musical uses explicit language and controversial sarcasm that are definitely intended for an adult audience.
The Broadway at the National Program returns to a family production from April 9 to 21 with a production of Peter Pan. The show is a "new adaptation by celebrated playwright Larissa FastHorse, directed by Emmy Award-winner Lonny Price and choreography by Lorin Latarro."
This adventure for children and those who never grew up begins when Peter Pan and his fairy sidekick, Tinker Bell, visit the nursery of the Darling children late one night. With a "sprinkle of pixie dust" and a few happy thoughts, the children are wafted away to a magical journey in Neverland.
Speaking of Neverland, the final production of the season, running from August 13 until September 8, is MJ the Musical. The "MJ" of the title is, of course, the late pop icon Michael Jackson.
Written by Lynn Nottage, the multiple Tony Award-winning musical centers around Jackson's 1992 world tour.
Baker says the National's lineup will appeal to a large range of audiences. "Our mission is to provide the best of Broadway and popular entertainment to D.C.-area audiences," he said. "We're proud we can fulfill our mission by presenting such a variety of hit shows for audiences of all ages."