Arts
New Army Museum opens at Ft. Belvoir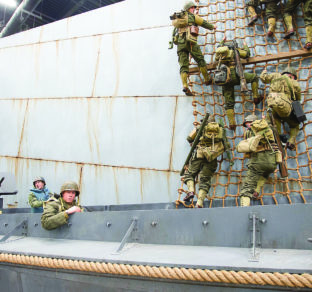 Free, timed-entry tickets are required to visit the National Museum of the U.S. Army during the pandemic.
National Museum of the U.S. Army
Washington's free museum scene gained a major new addition last month when the National Museum of the U.S. Army opened on Veteran's Day on 84 acres of Fort Belvoir, Virginia, 20 miles south of the D.C area.
With a theme of "Service and Sacrifice," the museum tells the story of the U.S. Army through the eyes — and in some cases, the actual voices — of the more than 30 million soldiers who have served since the Army's founding in 1775.
The museum is a joint project of the Army and the Army Historical Foundation. Most of the museum's 1,389 small and 19 large-scale artifacts have never been seen by the public.
Unlike Army museums around the country that honor specific units, this museum is a national one, its planners stress, so it explores the full range of Army service.
"The Army has been a part of nearly every major event and achievement in our nation's history, including medical advancements, technological breakthroughs, feats of engineering, daring exploration and space flight," Army Historical Foundation President LTG Roger Schultz, U.S. Army (Ret.), said in a statement. "Visitors who learn about the history of the Army learn about the history of America."
3D exhibits, tanks and helicopters
Through interactive exhibits, interviews, virtual reality, film and art, museum-goers can immerse themselves in 190 military campaigns in 11 wars.
For even more realistic virtual reality experiences, purchase tickets for optional programs allowing you to defend a bunker with a rifle, command a tank and fire a 75-millimeter gun, or perform stunts on a 1943 biplane.
The 185,000-square-foot, stainless steel-clad museum is also a history refresher. General George Washington scraped together a professional army from the colonies' various militias and, over the years, the Army developed innovations in fields like weaponry, medicine, communications, aviation, engineering and meteorology.
With artifacts from identification tags to helmets to drones, the museum shows how the oldest military service has protected the United States for 240 years.
Four massive, mega-vehicles were put in place in 2017 before the building's walls went up: a 38-ton M4A3E2 Sherman "Jumbo" Tank, a 28-ton M3 Bradley Cavalry Fighting Vehicle, a 16-foot Renault FT-17 tank, and a "Higgins Boat" D-Day landing craft, reflecting the Army's role in the Allies' World War II victory.
The Vietnam War comes to life under a real Huey helicopter that was shot down twice.
Several artifacts recovered from New York's World Trade Center site relate the 9/11 story, when militants hijacked two airliners and crashed them into the Center's towers on September 11, 2001: a fragment of aircraft landing gear and a badly damaged wristwatch with time frozen at 9:51 a.m., five minutes after the first plane hit the North Tower.
Army life
The collection contains much more than massive war machinery and weaponry.
One room presents first-person accounts of so-called "Army brats" who grew up with enlisted parents. Another has a World War I, red, white and blue dress women wore to promote Liberty bonds.
There are displays of uniforms, women serving in the Army, and even a pigeon named Mocker. On his 52nd mission, at the 1918 Battle of St. Mihiel, Mocker carried a message to a U.S. artillery battery, enabling the destruction of enemy artillery. Mocker was wounded and awarded the French Croix de Guerre medal and a gold medal for his service
Outside, the Medal of Honor Garden provides a contemplative space flanked by a wall honoring more than 2,000 Medal of Honor recipients.
"The 12 million living veterans of the U.S. Army and future generations of soldiers deserve to see their stories of service told in the context of the Army's entire history," Schultz said.
"Just as important, our country and the world should have a place where they can come to learn about the contributions and sacrifices the American soldier has made in times of war and peace on behalf of us all."
If you go
The museum is located at 1775 Liberty Drive, Fort Belvoir, Virginia, three miles east of I-95. It is open from 9 a.m. to 5 p.m. 364 days a year (closed December 25).
However, for health and safety reasons due to the pandemic, you cannot just arrive and expect to enter. Free timed-entry tickets (a maximum of five at once) must be reserved online at thenmusa.org. Masks are required except while eating in the café.
Four virtual reality experiences are available at prices ranging from $8 to $12/person, and may be reserved at the time you order free admission tickets or purchased on site.
The museum has more than 300 volunteers and will accept more after interviews and training. To volunteer, visit armyhistory.org/museum-volunteers.
To donate artifacts or funds to the museum, visit armyhistory.org/individual-giving-programs or call the Army Historical Foundation at 1-800-506-2672.