Arts
New memoir tells of family's life in China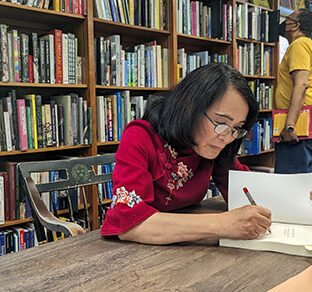 Qin Sun Stubis signs copies of her book, 'Once Our Lives,' at a June event at Politics & Prose in Washington, D.C
Photo by Margaret Foster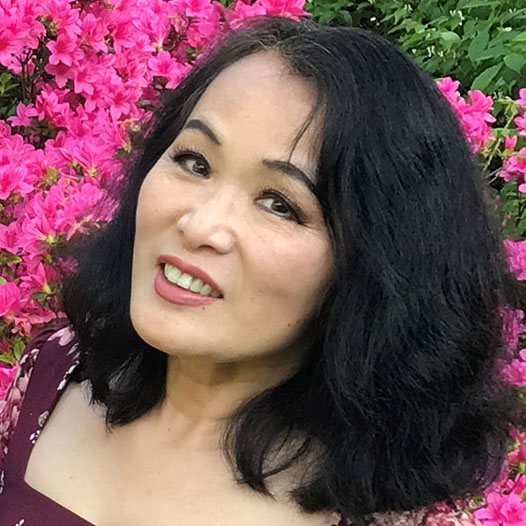 Bethesda writer Qin Sun Stubis published a memoir in June about four generations of women in her Chinese family. She grew up in a Shanghai shantytown during the Great Chinese Famine and endured the imprisonment of her father, a union organizer.
Photo by Mark Stubis
Shanghai-born Cultural Revolution survivor Qin Sun Stubis, 63, has a story to tell. It's about her ancestors, who survived the Great Chinese Famine, historic upheavals, generations-old family curses, demeaning traditions and the Communist-led government.
Qin, as she prefers to be called, describes her family's often tumultuous times in a new memoir, Once Our Lives: Life, Death and Love in the Middle Kingdom.
"It covers four generations of Chinese women — my family's struggle to survive," she said in a recent interview with the Beacon.
Officials twice jailed Stubis' father, once "for the 'crime' of using the wrong words," she said. He headed the equivalent of a worker's union, she said. Her mother was left to raise four daughters alone, selling precious family heirlooms to survive.
In the book, Qin describes her upbringing in a shantytown, and how she managed to leave China and arrive in the U.S.
Qin had graduated from the Shanghai Institute of Foreign Languages with bachelor's degrees in English and 19th-century English literature. Because her English was excellent, Qin worked as a government translator for visiting dignitaries.
She wanted to continue her studies in the U.S., and was able to contact Sen. John McCain through friends. "He wrote a letter on my behalf," Qin said, which led to a student visa for graduate work in English at the University of Arizona.
So, at age 29, "with two suitcases and a dream of opportunity," she recalled, as well as her love of English literature, Qin departed her birthplace for her adopted homeland.
After Arizona, Qin lived for some 20 years in Great Neck, Long Island. Along the way, she became a U.S. citizen and married Mark Stubis, then chief communications officer for American Humane, an animal welfare organization.
In 2011, his career brought them to Bethesda, Maryland, with their two teenage children: a son, Keaton (now 29) and daughter, Haley (now 24).
Qin began writing Once Our Lives while her children young, stealing moments at their swim practice to write in spiral notebooks. The book took some 20 years to complete. In June, the 350-page paperback was published by Toronto-based Guernica World Editions.
At a June reading from the book at Politics & Prose in Washington, D.C., Qin said she was compelled to write down her ancestors' stories.
"All the characters in the book, they were the writers. I was the messenger," she told the audience of more than 50 people.
Learning to tell stories
Qin's love of writing began when she was a child.
"I learned early in life about the power of words," she writes in the book. "Shunned as political pariahs by family, neighbors and friends, my family and I sustained ourselves with stories of adventure and past glory.
"Later, with the help of a borrowed radio, an eccentric British teacher, and a lucky assignment as a library assistant, l discovered and fell in love with Western literature, committing to memory the strange but beautiful sounds of Keats, Wordsworth and Lincoln," particularly the 16th president's Gettysburg Address.
As Qin explains on her website, her mother would tell her and her sisters stories every night before bed. "The four of us would listen to our mother, an aspiring actress in the early days of Asian theater, recount colorful tales of pirates, prophesies, fortunes won and lost, babies sold in opium dens."
A hope for peace
For the past 15 years, Qin has written a monthly column for the Santa Monica Star newspaper. (A friend recommended her to the publisher, who was searching for new ideas for the paper.)
Her column, called "Reflections from the East," covers "life on the East Coast, Asian culture, translations, Chinese lives in China, recipes for Chinese food, world events, goings-on in D.C., etc.," she explained.
Qin was able to return to Shanghai several times to see and say goodbye to her parents, but she hasn't been back for more than a decade. Her sister in Shanghai, and her parents, who died 20 years ago, "are all in my heart," Qin said.
"I miss seeing my sister, who still lives there, and I would like to visit the cemetery where my parents are buried," Qin said.
Qin, who refers to herself as Chinese-American, hopes the U.S. and China will "find ways to understand each other and improve relations," she said.
"I do feel that the United States and China will always be different countries, but they still can work things out" on the diplomatic and humane fronts.
At her book talk last month, Qin urged others in the audience to tell their family history, too.
"If you have a story, write it," she said. "No matter how hard it is."
Once Our Lives is available at Amazon, Politics & Prose and other bookstores.