Arts
Novels that focus on mature protagonists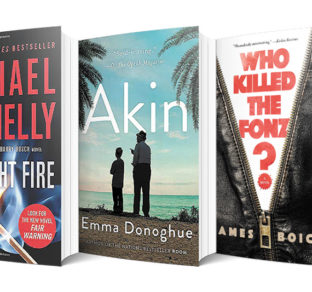 The Bibliophile
This summer, follow the adventures of characters our own age as the plots twist and turn to their denouement.
Akin: A Novel, by Emma Donoghue, 352 pages, Back Bay Books paperback, 2020
Retired chemistry professor Noah Selvaggio is looking forward to spending his 80th birthday on a short visit to his hometown Nice, France. 
The widower lives alone in an apartment on Manhattan's Upper West Side, which he shared with his beloved late wife, Joan, a renowned medical researcher. They were childless by choice. He still hears her voice of reason in his mind as he ponders life and makes decisions. 
Like many older people living alone, Noah treasures past memories and mementos, including a set of photographs taken by his mother. They were apparently shot in Nazi-occupied France. 
Noah hopes to learn more about them and the years his mother lived apart from him and his father during World War II. She later rejoined them in the United States. 
As he is about to leave, Noah becomes the temporary guardian of his great-nephew Michael, whom he has never met.
Akin is the story of Noah and Michael's overseas trip and much more. Enjoy the repartee between the uninhibited pre-teen and the older gentleman — the clash of values, attitudes, habits and vocabulary across the wide generation gap. 
Learn about occupied France, the collaborators and the Resistance movement, as well as the remnants of that time that are still visible in the Nice of today. 
Tour a fascinating Mediterranean city and follow along as an old man and his young companion take in the local sights.  
A mystery, an intergenerational story, a travelogue to the French Riviera, and a fictional account of historical events in war-torn Nice, Akin is a multifaceted work of fiction sure to enlighten and please. Examine, through Noah and Michael's journey, the meaning of the former's mantra: Never hate, never forget.
Who Killed the Fonz?, by James Boice, 208 pages, Simon & Schuster paperback, 2020
Here's a fun read about the later lives of the characters of the television show "Happy Days," the hit sitcom that ran for a decade beginning in 1974. The storyline was, itself, a throwback to life during the 1950s in Milwaukee, Wisconsin. 
The characters of the show come to vivid life in Who Killed the Fonz? You'll find many "aha" moments reading the names and remembering the colorful characters you may not have thought about in four decades. 
Find out who remained in town, who left, who changed and matured, who stayed the same, and what livelihoods they pursued. Read about their unexpected reunion and the event that brings them back together.
Author James Boice was raised in Northern Virginia and now resides in Jersey City, New Jersey. As he is in his late 30s, he must have watched "Happy Days" reruns, unlike many of us. 
His book is a great way to spend a few hours down memory lane with a fine writer. Rejoin beloved fictional characters who, it turns out, have a life of their own beyond the last episode on the small screen. Enjoy!
The Night Fire: A Renee Ballard and Harry Bosch Novel, by Michael Connelly, 448 pages, Grand Central Publishing paperback, 2020
Retired L.A. Police Detective Harry Bosch, three years off active duty, is nearing 70 and recovering from knee surgery as well as battling the early stages of leukemia. 
Nevertheless, this does not slow him down. He works on cold cases and assists his half-brother, a defense attorney.
Bosch joins Detective Renée Ballard, an outspoken and unconventional cop relegated to the midnight shift. The duo of renegade outsiders tries to unravel three homicides that the department has closed. 
The environs and neighborhoods of L.A. are richly detailed and evoked in The Night Fire. The politics that permeates the police force, clashing personalities, and overarching ambitions are realistically portrayed. Learn about the investigative shortcuts that undermine the rule of law.
Author Michael Connelly, born in 1956, has written more than 30 novels since 1992 and has sold more than 74 million books worldwide. His literary idol, he said, was Raymond Chandler.