Arts
Piecing together a new career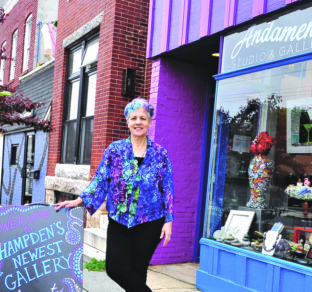 After a varied career in teaching, storytelling and crafts, last year Gail Rosen opened her own business, the Andamento Studio and Gallery in Hampden, to showcase her mosaics and the work of other artists. Her artwork ranges from small pieces of jewelry to large wall hangings.
Photo courtesy of Gail Rosen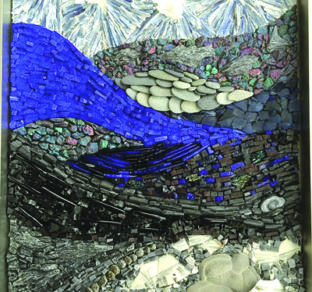 "Deep Secrets" is one of Rosen's mosaics
Starting a retail business at the age of 66 might be considered by some as "questionable," Gail Rosen agreed. But that's just what she did last spring when she opened Andamento, her Hampden studio and gallery featuring fine art mosaics and handcrafted jewelry.
"I built myself a playhouse!" said Rosen, noting that the gallery features her own mosaic art as well as jewelry designs by Gina Tackett, with frequent showings by guest artists of new mosaics and jewelry.
A mosaic, made from the placement of small pieces of colored glass, stone or other materials, is often used in decorative art or as interior decoration.
Mosaics have a long history, dating back to 3rd millennium BCE Mesopotamia. Jewish artists decorated synagogues in ancient Israel with floor mosaics (such as at the fortress at Masada, circa 37 BCE), while mosaics were also widely used on religious buildings and palaces in early Islamic art, as in the 7th century CE Dome of the Rock.
Modern mosaics are made by professional artists, street artists and as a popular craft. Today's mosaicists may use materials other than traditional stone and ceramic, including shells, glass and beads.
"There's a resurgence of interest in mosaics," said Rosen, "but with more of a contemporary than classical aesthetic."
Rosen explained that "andamento" — which means "movement" or "course" in Italian — also describes the flow of lines in a mosaic. "To me, it also suggests the flow of life, and how our journeys are sometimes planned and other times surprising," she said.
Telling stories in stone
Rosen, a Baltimore native, has moved along many paths in her life, from majoring in theater in college, to teaching special education, being a storyteller, and earning a certificate in bereavement counseling.
She began doing crafts as a sideline years ago, selling items such as personalized Christmas ornaments at craft shows. It was when she took a class in mosaics at the American Visionary Art Museum that she found her niche.
During the 20 years Rosen worked as a storyteller, she specialized in working with the bereaved and telling the story of a Holocaust survivor she met.
But after years of performing, teaching and traveling to sell her crafts, she said it was refreshing to spend time alone in her studio exploring and crafting mosaics.
For Rosen, her work with mosaics is not all that different from her work as a storyteller. The only difference is that now, "I'm making stories with my hands."
She elaborates: "In a well-told story, there is often a sense of heading out into the unknown together, and then coming home with wisdom gained. I look for a similar feeling of satisfaction, completion and homecoming in making and viewing mosaics.
"There is a shared emotional arc in a satisfying performance, and also in the rewards of teaching, that I sometimes sense in a mosaic," she added. "In my time doing craft shows and selling in malls, what I most enjoyed was connecting with individuals as they found delight and meaning in what I had created."
An art for everyone
Rosen finds mosaics a more "accessible" art form than drawing and painting, especially for those who have not had formal art training. "There's room for everybody to create and enjoy" mosaics, she said.
She also likes the physicality of the art, and working with different materials. "I love traditional glass and stone mosaics, but also all sorts of materials and found objects," she said. "I am fascinated by the play of light on the shiny stuff, and the variety of movement and meaning."
Rosen finds inspiration for her designs from the individual minerals or stones she uses, and from their colors. One of her recent favorites is titled "Within Reach," a white-on-white mosaic made of glass, stone, crystal and broken plates.
She also looks to nature or other works of art for ideas. "Sometimes there is a feeling to express or a story to tell, sometimes a plan, sometimes not, but always an organic and surprising process."
Modern mosaics can range from craft projects to fine arts. Rosen, for example, is just as likely to create small pieces of jewelry that cost less than $100 as she is to make larger wall hangings that sell for up to $3,000.
Other approaches to mosaics
Andamento also displays and sells the works of guest artists. For example, Patty Von Dolson's works will be on exhibit there through the end of April. Her large mosaics often feature people, and capture some of the emotions she has gone through while fighting Stage 4 breast cancer.
"I like shiny," Von Dolson said. "Bold colors and sparkle make me happy. Mosaic, with its complexity of multiple bits and pieces, its light-gathering myriad of facets and textures, and its ever-changing sparkle of iridescent colors and shine is emotionally uplifting and spiritually recharging."
One of her pieces features a woman looking heavenward. Her hair is like fire, pieced together with orange, red and yellow shards. Another, called "A Dark Day," is made from a palette of muted colors, and consists of a woman sitting contemplatively at a window.
From May through July, Andamento guest artist Rebecca Campbell will share her works based on the animals that live near the south shore of Lake Superior, including a red fox and a great blue heron.
These whimsical mixed-media mosaics incorporate an assortment of ceramic tile, stained glass and found objects — such as pottery and tile shards — as well as buttons, bicycle chains, flatware, beads and even bullet shell casings.
Von Dolson explains her thought process like this: "These works appeal to the viewer on many different levels. As he or she is drawn to a flashy assortment of color, materials, patterns and textures, the viewer gains some specific knowledge or feeling about each plant or animal."
Andamento Studio and Gallery is located at 3406 Chestnut Ave. Hours are Thursdays and Fridays 3 to 8 p.m., Saturdays noon to 8 p.m., Sundays noon to 6 p.m., and also by appointment. The gallery is also open until 9 p.m. on the first Friday of each month. For more information, email mailto:artists@andamentogallery.com or call (443) 717-4598.