Arts
Places for you to cut the rug your way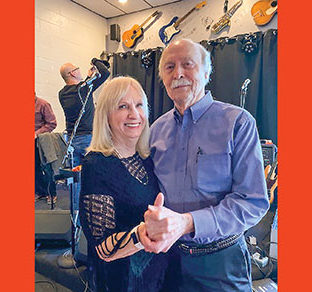 Pat Connor and Montee Curling enjoy swing dancing together. There are more and more opportunities to find live music for dancing throughout the RVA. The growing acceptance of "freestyle" dance means you don't even need a partner.
Photo by Diane York
When people think of dancing, they may think of twirling around a ballroom with a partner. Sure, there are wonderful dances like the waltz, the Texas two-step, foxtrot, salsa, tango and rhumba. There is West Coast swing and shag, too, and they are all wonderful.
But freestyle dancing allows you to express yourself in a personal way. With freestyle dance, there is no wrong way, no steps to remember — not even the need for a partner — so you can express your own personal style.
As local dance lover Keltcie Delamar said, "To me, dance is a pure expression of spirit…It is both an exercise in 'letting go' and in going with the flow. The real key is the energy of the place, which is fed by music, environment and the people."
The times have never been better for dancers who want to express themselves. Here in Richmond, known as "the Austin of the East Coast," there are dozens of venues open with danceable music. Self-taught, self-styled dancers like Delamar, 65, are having the time of their lives.
Because freestyle dance doesn't even require a partner, you can go to venues alone and move to the music with other like-minded people. In any place that has live music, you'll find people dancing on a dance floor, in the aisles, and anywhere they can find space.
However, Delamar pointed out, the style of music is critical. It must match your taste in order for you to "feel it" and be inspired to stand up and dance.
Dance lessons can help
If you are not comfortable jumping in with freestyle dance, you can always take lessons first and then establish your own style later.
Montee Curling, 70, has been dancing for 16 years. He went to a dance in 2006 and, as he put it, "The dancing bug bit me."
He took lessons at Rigsby's Jig and has been dancing ever since at venues all over Richmond. Swing dancing is his favorite.
"To me, swing dancing is a very healthy activity, a great cardio workout, and loads of fun," Curling said.
In addition, any type of dance can be healing, as well. Pat Conner, 76, cared for her husband with Parkinson's disease for years.
"Music and dance have been a lifesaver for me. They make me happy. It helps us all deal with the difficult things in life," Conner said.
Add music and dance, and you might wind up with romance.
Take Stuart and Sandy Harris, 83 and 72, respectively, who found it to be true. They are well-known attendees at music events all over Richmond, and they met while out dancing several years ago.
They believe their happy marriage is due to regular doses of dancing. "Dance is the expression of joy. Nothing is better than us dancing together and sharing that joy," Sandy said.
Many places you can dance
Where is all this freestyle dancing occurring? All over town!
While many restaurants closed during the pandemic, now that COVID is less of a concern, restaurants are back, some with local bands.
Also, during the pandemic breweries and wineries multiplied at an astounding rate throughout the area. Many have bands to dance to on weekends.
In Northside, there is Bryan Park Grille on Lakeside Ave. and JJ's Grille at Crossridge Shopping Center on Staples Mill. The Shriner's Acca Temple has one of the largest and best dance floors in Richmond and holds live music open to the public several times a year.
Uptown Alley, Steambell Brewery, Independence Golf Course (summer), and the County Seat, all in Southside, have regular live music events.
In Mechanicsville/East End, the Midway Lounge at Calabash Seafood has another great dance floor.
Hardywood Brewery at West Creek, Pour House on Pump Road, Rare Olde Times at Pump and Patterson, and the Tin Pan are among the many live music venues in the West End.
If you have been to Scott's Addition in the last few years, you will have noticed that it is brimming with breweries, restaurants and lots of great music. Tang and Biscuit, Mainline Brewery and River City Roll are just three fun places to go.
Downtown Richmond has the Camel, Broadberry, the National and, in the heart of Shockoe Slip, the beautiful Tobacco Company.
Up the road in Ashland, Huddle Up, located in a shopping center with plenty of parking, has good bands every weekend.
Hopefully, the VMFA will soon resume its Thursday night jazz program. If you want your dance music in a magical setting, the Lewis Ginter Botanical Garden has music events all summer long in the evening. Check their website for dates.
So, find a venue you are comfortable with, check out the event calendar on their website or Facebook page, and go for it!