Arts
Play highlights Hollywood compromises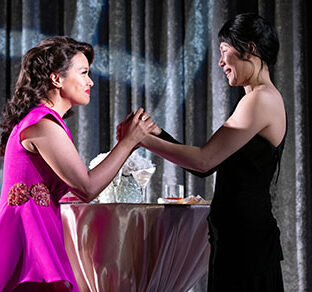 Michelle Vergara Moore (Viola, left) supports Karoline (Katie, right) in the Hollywood-based dramedy Exclusion. Written by Kenneth Lim, the new play runs at Arena Stage at the Mead Center for American Theater through June 25.
Photo by Margot Schulman
It turns out that pairing a Midwestern historian who writes a bestselling book on the Chinese Exclusion Act with a Hollywood producer who wants to turn it into television gold is a recipe for a hilarious and moving comedy.
At least, this is true for Exclusion, the 10th production in a series of works Arena Stage theater commissioned for its Power Plays initiative. It is also longtime Artistic Director Molly Smith's final play with the theater.
Director Trip Cullman's guidance and Kenneth Lin's taut, witty writing come together to make this play spark. Every line falls with perfect impact — or smacks the next line like a well-aimed pool shot.
I could not look away from the scenes between producer Harry (Josh Stamberg) and historian Katie Yang (Karoline), as they spar to shape the TV mini-series for their own ends. In each interaction, they infuse politeness and empty praise with dissonance, manipulation or emotional turbulence.
Harry, a self-confident White man with a recipe for success, has the edge early on. He flattens Katie with charm and jabberwocky. Stamberg's torrential speech can abruptly give way to a fraught question with the unexpected suddenness of glacial ice calving into the sea.
Ambitious and brilliant Katie feels strongly about educating a wider audience about the discriminatory Chinese Exclusion Act, which barred Chinese immigration between 1882 and 1943, and imposed harsh restrictions on Chinese people already in the U.S.
But she's unsure of her footing in Hollywood, and she agrees with her documentary filmmaker husband, Malcolm (Tony Nam), that Los Angeles' warmth and luxury would be a welcome change from the Midwest. Luxury and success may require serious compromise.
Compromising history for money
The play's funny dialogue contrasts with the red lighting that slashes the stage by lighting designer Adam Honoré and suspenseful dramatic music from Hsin-Lei Chen. Both underscore the tension between expert and newcomer, accuracy and entertainment, historical truth and emotional truth — a hit or a failure.
The project is barely underway when all the Asian writers but Katie are out, and Harry has taken over the script. The brutal lynching of 18 Chinese men in Katie's script becomes, in Harry's hands, a vehicle for (shocker!) a stereotypical martial arts scene of resistance.
It's what "They" want, Harry says, asking if Katie trusts him. She does not, and the enthusiastic audience in this intimate theater on opening night did not, either. They felt like a force lifting up Katie for the entire production.
Initially, however, Katie acquiesces. Her husband, Malcolm, is believable in his struggle to find his place in Hollywood and funding for his documentary about the Chinese workers who built the U.S. railroad.
His wife's project has made their move possible, but it has created a new discomfort between them. By turns sexy, supporting and frustrated, Malcolm is committed to navigating the television industry.
Glamorous Viola (Michelle Vergara Moore), an actress in the mini-series, becomes another support. Cambridge-educated, Viola tells Katie how much she values her book when they meet at a coffee shop cleverly conjured by set designer Arnulfo Maldonado with only a warm, cream-colored set and a stylish menu of overpriced lattes.
Moore as Viola brings a warm humor and authenticity to a woman working hard to have a family and career but limited by the options available to Asian actors. Moore makes even a small transition scene of a long-distance storytime between Viola and her faraway children compelling.
Finally, Katie, unable to ignore the violence being done to her story, skewers Harry with a blistering rebuke. She implicates the audience, too: Whenever she lectures, she says, she counts every seat in the auditorium and remembers the mob of 500 in Los Angeles in 1871 that lynched 18 Chinese men. (The Kreeger Theater where Exclusion is staged contains 514 seats.)
For Harry, Katie's pushback against the rules impedes his magic ability to make "the thing happen," and her outburst has immediate, drastic consequences.
The tables turn
The four characters connect at an awards ceremony honoring the highly successful production for its exploration of "the human condition in a nuanced and meaningful way."
Despite Katie's misgivings and experience, Malcolm succumbs to the lure of Hollywood funding for his railroad documentary. Katie could allow him to learn her lessons, but she's as committed to his artistic ambition as she is to her own.
Costume designer Sarah Cubbage and Wig Designer Anne Nesmith show us Katie's evolution through her changing hairstyles, her West Coast casual raw-hem jeans and her awards gown.
We see change also in language, when Viola and Katie deepen their bond in a substantial (untranslated) exchange in Mandarin. Instead of being excited to participate in a mini-series, as she once was, Katie negotiates to control the money and content.
Stay tuned to the final act to see what Malcolm and Katie do with their newly acquired power in this groundbreaking play.
Exclusion runs through June 25. The play contains racially motivated violence and is not suitable for children.
Arena Stage at the Mead Center for American Theater is located at 1101 6th Street SW, Washington D.C., two blocks from the Waterfront Metro Station. The theater also has its own parking garage. Buy tickets at tickets.arenastage.org/events.