Arts
Poetry to read and contemplate at leisure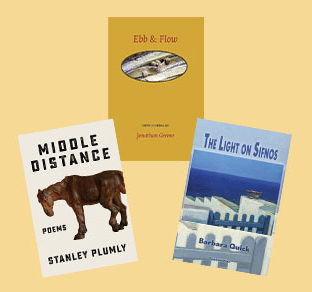 The Bibliophile
Poets are challenged to condense thoughts — often moving and profound — into fewer words than a full-length book. The imaginative reader fills in the rest.
The Light on Sifnos, by Barbara Quick, 34 pages, Blue Light Press paperback, 2021
How many of us can retain the inner musings that travel evokes and transform them into elegant verse? Join Barbara Quick on a sun-washed Greek island 5,000 miles away as she opens her heart and makes note in poetry of her thoughts, observations and dreams.
The island of Sifnos in the Aegean Sea is one of about a dozen in the Cycladic Island archipelago. It's 120 miles from Athens but requires a six-hour drive and ferry ride.
Still, Sifnos' beaches and quaint villages are magnets for tourists. The island boasts whitewashed houses and cosmopolitan bars, not to mention natural scenic beauty.
This slim collection of 16 offerings is stark in its simplicity, vivid in its imagery. Quick's poems evoke nostalgia for long-gone parents and memories that are eternal.
She describes the island's colorful locals, ocean views and extraordinary scenery with simple words but profound concepts. The topics are personal, yet their meanings are universal. We can all relate.
Reading The Light on Sifnos will undoubtedly transport you to the Greek Isles without ever leaving the confines of your home. The book may take you back to a favorite vacation spot and recreate feelings of relaxation and serenity.
Quick, who is in her 60s, is a novelist, poet and prolific traveler who resides in Sonoma County, California. This book was the co-winner of the San Francisco-based Blue Light Press Poetry Prize 2020.
Ebb & Flow: New Poems, by Jonathan Greene, 48 pages, Broadstone Books paperback, 2021
These 34 poems by an octogenarian poet run the gamut from thoughts on mortality and immortality, the pandemic, growing old and the beauty of nature, both lavish and mundane.
Read these poems in a quiet place without distractions. Their structure is simple; their words are few. Let them sink in and reverberate inside your mind before you start on the next one.
Jonathan Greene lives on a Kentucky farm. He has published more than 30 books, and his work has appeared in anthologies and magazines. Greene is also an award-winning book designer.
For all his accomplishments, his style of writing is simple and modest. It will not overwhelm you but whisper to you. His poetry may well elicit from deep inside you your own thoughts and sentiments.
This slim volume is not for the rushed or harried. It is perfect for the older reader with time and memories to re-awaken.
Middle Distance: Poems, by Stanley Plumly, 96 pages, W. W. Norton & Company paperback, 2022
Stanley Plumly was the former director of the creative writing program at the University of Maryland, College Park. He served from 2009 to 2018 as Maryland's poet laureate.
Plumly died of multiple myeloma in Frederick, Maryland, on April 11, 2019, six weeks shy of his 80th birthday. This posthumously published volume is a deeply felt farewell opus. It is exquisite and elegant, riveting to read and inspiring to contemplate.
Plumly's mind takes him on a journey forward to his demise and back to remembrances of his long life, as he confronts the ravages of cancer and his impending death. He eloquently guides other aging adults on the methods of making one's last years a special time of reflection.
Plumly lovingly recalls family members who have passed. He describes with passion past romances, visits abroad and people he remembers from his childhood. He even focuses on his literary heroes.
The late poet brings vividly to life his early years on a farm in Ohio and in the forests of Virginia's Shenandoah — the people and the natural wonders.
Plumly lingers over memories of his favorite paintings. His eye for beauty is not diminished by age; in fact, his sensitivity to his surroundings is enhanced by his decades of experience.
You will be touched by Plumly's profound genius, which lives on in Middle Distance for us and future generations to enjoy and ponder. Rest in peace.