Arts
Poor guy can't help answering the phone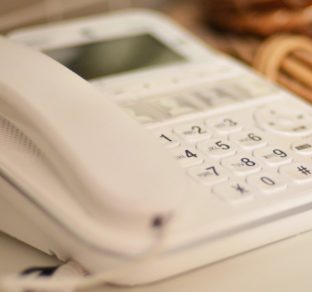 Image by Peter Douglas from Pixabay
The phone rings. The digital screen says UNKNOWN CALLER.
My wife and I exchange glances. Thus, the ballet begins — again.
"I'm going to answer it," I say.
"Don't answer it," she says. "You'll just encourage them to call again."
"Might be Hollywood," I say.
"You know it isn't Hollywood," she says.
"One way to find out," I say. And I lift the receiver, as she glowers at me — again.
It's not Hollywood. It never is.
So, who is it? A fundraising pitchmeister. An attempt to get me to re-up insurance on a car I sold ten years ago. An absurd threat to cancel my Social Security benefits. A warning that my computer has been hacked by vicious three-toed Moldavian buzzards who will gladly unlock it for a mere $3 million.
Or perhaps it's that friendly-voiced guy who identifies himself only by a first name (a dead giveaway). He pretends to be so-o-o-o-o relieved that I answered, because, oh, gosh, oh, gee, he was afraid he had the wrong number and he just really, really needed to speak to me.
It's nice to know, pandemic or not, that some actors (like Mr. Really Really) are gainfully employed. It's nice to know that Moldavian buzzards are willing to settle for such a reasonable price. It's even nice to know that my wife is right once in a while (just kidding, dear).
But it's far less nice to imagine what would happen if a senior citizen answered a call from a number that he or she did not recognize and bought what the oily voice was selling.
We've all seen the news stories — 90-year-old grandma bilked of her life savings because she thought she was helping some kind (but unknown) soul. We've also surely heard that we can place unwanted callers on a federally administered do-not-call list.
But for seniors and everyone younger, the best defense is a good offense. Which means coming to grips with lifelong habits — and if you won't change those, dear senior, having the nerve to be impolite.
In my case, I always answer the phone because I was raised to do so. Can't shake it. Won't shake it. Not answering would be (choose at least one) rude, self-centered and possibly self-defeating.
What if someone is calling to tell me that a relative is sick or injured? What if some long-lost amour wants to forgive me for sins of 50 years ago? And what if (yes, seriously) some movie producer can't make his next surefire hit without casting little old me?
So, I'm not going to stop picking up the receiver, even if I know that 99 percent of the time I'll just be wasting my time. But what then?
Here's what then:
As soon as I know that a call is bogus or borderline fraudulent, I just hang up.
I don't give the caller a lecture or a hard time. In fact, I don't give him so much as the time of day. I just hang up, softly, wordlessly and quickly.
Yes, that's just as rude as not answering. A human being is on the other end of the line, and he or she is only trying to make a living.
But I think of the caller as an intruder. If someone broke into your house, you wouldn't worry about being rude, would you? Same with trolling phone calls.
I do have to recognize a couple of senior-citizen friends, who love shameless vengeance. When one friend gets a call from a phone prospector, he paints on layers of enthusiasm (phony, of course).
"Oh, hey, that sounds just great!," he will say. "Please hang on for just a second while I go get my checkbook!"
Then he will leave the receiver sitting on the table for as long as it takes the caller to realize that he's been had.
And what about the pal who takes more direct action?
He will ask the caller to hold on while he fetches his credit card. Then he will tune a radio to earth-shattering heavy metal rock and roll, crank the volume all the way up and place the radio right next to the mouthpiece. My pal says the line is clear within ten seconds, count on it.
I can't recommend either approach, because cruelty isn't an answer or an antidote to anything. But I can recommend this:
If you have caller ID, use it. If you don't have it, get it. It's like the peephole on your door. It will tell you who's there.
No, not always. Trolls have gotten so good that they can now pretend to be calling from an area code and an exchange that are the same as yours. The idea is to make you think a neighbor is calling. Not only is it never Hollywood; it's never a neighbor, either.
But by screening calls, you accomplish two things. One, you may save time and aggravation. Two, you spare yourself that pitying head-shake from your spouse that means, "See, Mr. Wonderful, I was right — again."
Bob Levey is a national award-winning columnist.