Arts
Premiere brings Matisse to life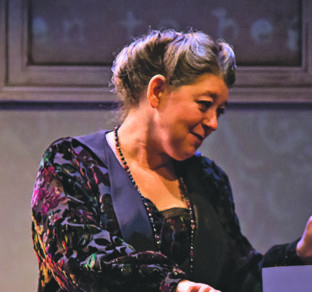 Valerie Leonard (right) portrays Gertrude Stein and Grace Bauer plays Etta Cone in a world premiere play about the Cone sisters, whose vast collection of modern art now fills a wing of the Baltimore Museum of Art. Leonard also plays the role of Etta's sister Claribel in the play, All She Must Possess, which is onstage at Howard Community College through late February.
Photo by Katie Simmons-Barth
After more than 100 years, the art collecting Cone sisters of Baltimore, the great French artist Henri Matisse, and the modernist literary icon Gertrude Stein are together again — on stage, at least, at the Howard County Community College in Columbia.
They are the leading characters in All She Must Possess, a world premiere play by Baltimorean Susan McCully, being presented at the Rep Stage on the community college campus.
Valerie Leonard and Nigel Reed, actors who are married to each other and live in Columbia, are bringing their prize-winning acting talents to the production, which is Rep Stage's contribution to the 2018 D.C. Women's Voices Theater Festival.
The play centers on the collecting efforts of the sisters, Etta (1870-1949) and Claribel (1864-1929) Cone, daughters of German-Jewish immigrants who settled in Baltimore in the 1870s, and whose family's textile business made them part of a thriving Jewish community in the city at the time.
The two spinster sisters lived most of their wealthy lives in Baltimore, while going on many trips to Europe (Paris in particular), in their extensive efforts to collect modern art. They were able to afford the trips thanks to their annual inherited income of $2,400 each — considerable spending money back then.
The experts of the time considered the "degenerate" works of art purchased by the sisters to be worthless. But they now make up the world-renowned modern French collection at the Baltimore Museum of Art.
The museum's Cone Wing houses more than 3,000 works by Matisse, Picasso, Cezanne, Van Gogh, Gauguin and others, whose total value today has been estimated at $1 billion. There are 500 works by Matisse alone — the largest museum collection of the Post-Impressionist master's artistic output anywhere.
Area playwright
Playwright McCully, 54, is a performer, an assistant professor at the University of Maryland at Baltimore (UMBC), and a feminist theater scholar. She said she spent a year researching the sisters' lives, and a year and a half writing the one-act play in which Etta and Claribel Cone are back in Stein's Paris salon, meeting such starving young artists as Matisse and Picasso.
"I became fascinated by the sisters, who were old-fashioned in their personal styles of dress and behavior, but radical in their tastes for art," McCully said. "I was especially fascinated by Etta" — the younger sister, who the playwright found to be "a female hero."
Etta, the focus of the play, "took care of people, while going about collecting, doing it all quietly," said McCully. Women heroes often live lives of great accomplishments with little fanfare, said the playwright-teacher-performer.
McCully also noted that diary entrees showed that Etta and Gertrude were lovers for a time, which would also make Etta "a kind of gay hero."
Rep Stage's "Audience Guide" to All She Must Possess points out that Etta Cone's "complicated relationship with Gertrude Stein included years of strong attachment, then feelings of hurt, then ambivalence." The relationship cooled for good around 1907, when Stein's future lifetime partner, Alice B. Toklas, came on the scene.
An impressionistic play
While the play may not be a conventional linear drama, McCully said, she "worked very hard to be true to the characters, to portray them as the persons they were."
For instance, while some of the meetings portrayed in the play may never have actually taken place, the exchanges between the characters are factual, based on their letters.
At the same time, McCully said, while the play contains historical facts, the structure adopts the expressionistic and even cubist styles of the artists the play is about.
As she puts it, "Like a Picasso painting, the audience may see three sides of a person's character at the same time," McCully said.
And in a Harry Potter-like moment, one of the characters in the play portrays a real-life "Blue Nude," speaking from the frame of Matisse's painting, which was highly controversial at the time. In fact, an effigy of the work was burned when it was shown in Chicago in 1913.
"Blue Nude" was bought by Claribel in 1926 and is now part of the Baltimore Art Museum collection — and considered one of the artist's greatest works.
Origins of their passion
By all accounts, the sisters were more than unusual for their times. Their early friendship in Baltimore with Gertrude Stein and her brother Leo may have led to their strong interest in the arts.
Etta made the sisters' first art purchases in 1898. Just a few years later, they took a trip to Europe to start collecting paintings from the unconventional artists of the day.
Art historians say that the paintings were not bought with future donations to museums in mind, but strictly because the sisters liked what they saw and wanted the art to decorate their homes. Photographs of their apartments show paintings from floor to ceiling and wall to wall.
While the sisters appreciated the works of Picasso, they were drawn more to those of Matisse, according to McCully, because they felt more comfortable with the French artist's more gentlemanly ways.
After Claribel's death, Etta commissioned Matisse to paint a portrait of her sister. Matisse sent her four drawings of Claribel and six of herself, as a gift for their strong support of his early work.
A love of acting, and each other
Two of the play's stars, Valerie Leonard, 57, and Nigel Reed, 63, have performed on local and New York stages for decades. Leonard has been acting for more than three decades, from Broadway to many roles at the Olney Theater Center. Reed has appeared off-Broadway and acted in 22 Rep Stage productions.
The couple met while appearing in a stage adaptation of Anna Karenina at Olney. Leonard, in the title role, "kept throwing herself under a train every night [how Anna died in the Tolstoy novel], and every night I had to take care of her," Reed joked.
Reed is Baltimore-born, Ellicott City-bred (a graduate of Mt. Hebron High School) and, since 1976, a Columbia resident. He has won a multitude of awards for his local appearances, among them the Helen Hayes Award for Outstanding Lead Actor in 2002, when he portrayed Oscar Wilde in The Judas Kiss at Rep Stage.
If you watch soap operas, you may also have seen him as Wally McFadden in "All My Children" and Tim Werner in "Guiding Light."
The one-time pre-law student at UMBC turned in his law books after a successful tryout for a campus production in 1973 of T.S. Elliot's Murder in the Cathedral.
Forty-five years later and still going strong, Reed plays both Matisse and Leo Stein, Gertrude's art collector-promoter-critic brother, in All She Must Possess.
Leonard was born on Long Island, and spent 20 years acting in the Big Apple. She decided to move to this area in 2001, and has lived in Columbia since 2005.
Among many other local-based performances, she had a role in the Baltimore-based TV show "The Wire," and appeared recently in local productions of Sunday in the Park with George and Fiddler on the Roof, as well as in Arthur Miller's The Price at Olney.
Leonard has just been nominated for a Helen Hayes award as Best Supporting Actress in a musical for playing Mrs. Pearce and Mrs. Higgins in Olney's production of My Fair Lady.
One of Leonard's roles in All She Must Possess is as Claribel Cone, the elder sister, who was one of the relatively few women doctors at the time. Claribel attended and received degrees from several medical schools, including Johns Hopkins, and specialized in pathology.
Leonard said she has listened to audio tapes made by Gertrude Stein (1874-1946), to get some hint of the personality of the woman known for such quotes as, "A rose is a rose is a rose" (meaning "Things are what they are") and, when describing the disappearance of her childhood home, "There is no there there," which has come to be used to describe places where little of interest happens.
Leonard plays both characters on stage at the same time in what is not your usual theater piece about two women from Baltimore who broke barriers in collecting art and in life.
What is it like for two actors to be married to one another?
"The schedule, itself, could be upsetting," said Leonard. "When people are coming home, you're going to work. But it's a special joy to be working together," which the couple has done, so far, in seven different plays.
Reed said, "Frankly, l can't imagine being married to anyone who is not an actor. Not everyone can understand the life style, the set of skills needed, the anxieties.
"Our work continually gets judged. You need a support system. Your mate understands. What we're doing is a calling, really."