Arts
Putting on a show for charity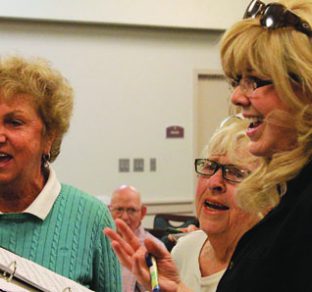 Judy Kahl, Jody Duke, and Deb Wilson rehearse for the Paint and Powder Club's upcoming performance on June 2 and 3. The club, which was founded in 1893 and puts on shows to benefit charity, is thought to be the oldest of its kind in the United States.
Photo by Jason Sauler
Baltimore has many nicknames, including the "city of firsts," with such claims to fame as the first professional sports organization in the United States (Maryland Jockey Club, 1743) and "America's Oldest Little Theatre" (Vagabond Players, 1916).
Included in a very long list of firsts is Baltimore's Paint and Powder Club — an amateur theatrical club that performs original musical shows to raise funds for charity. It was named for the greasepaint and stage make-up used in theatre productions.
Founded in 1893, the then all-male membership was drawn from Maryland's blue blood community. In addition to staging performances and raising money, it served as a social club for members. According to the Maryland Historical Society, similar clubs exist in Boston, Philadelphia and other cities, but Baltimore's Paint and Powder Club is thought to be the oldest of its type in the United States.
Socials and shows
Today, about 110 members from across the Baltimore area get together throughout the year for monthly meetings and social events, such as a fall outing, black tie Christmas gala, and springtime President's Ball.
But it is the annual musical show that is the primary objective of the members. This year's event, titled BonBon's Naughty, Bawdy, Gaudy Musicale, will be held Friday and Saturday, June 2 and 3. (When asked, it was described as "tastefully bawdy.")
"It's a social evening filled with music," said 75-year-old musical director Rod Clark, explaining that there is no "story" per se, just a series of musical numbers that all tie to the theme of "kings and roses." The theme was chosen to honor this year's president, Bonnie King-Rose.
Among other numbers, Clark said, look for 20 men between the ages of 30 and 80 dressed as "the king" — that is Elvis Presley —and performing a medley of his hits.
Clark, whose mother ran an arts program in Nashville, had a professional career as a fundraiser, but couldn't shake his theatrical roots. He and his wife met while performing in a dinner theater production of The King and I, and while no longer able to perform because of limited mobility, Clark takes pride and pleasure in planning and directing the club's annual shows.
He also still keeps his tap shoes on hand. "If I can ever dance again," he said, "my shoes will know the routines."
Dozens of performers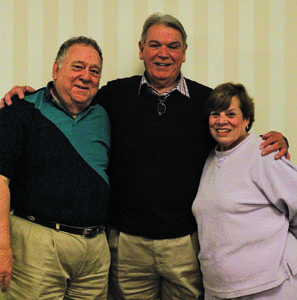 Jerry Chiat, Rod Clark and Eileen Chiat help lead the Paint and Powder Club.
Photo by Jason Sauler
This year's show will include nearly 60 performers. Rehearsals began in March.
The club has no set rehearsal space. "We do this on a shoestring," said King-Rose. "We don't even have a mirror to see how we look! For Rod to pull this off every year and make us look good is amazing!"
King-Rose, who is 75 and lives in Otterbein, was first introduced to the Paint and Powder Club when she was in college and several of her sorority sisters performed in a show at Baltimore's legendary Alcazar Ballroom. "It was so fancy and elegant," King-Rose recalled.
Though King-Rose went on to have a career as a stockbroker, she had a dance background and "it never got out of my skin." She first performed with the club for several years in the 1980s, and then again in the 1990s. She has been an annual participant since 2003.
What keeps King-Rose coming back year after year is the fact that "they're fun people," she said. Her husband Bill, chairman of the charity selection committee, added laughing, "My wife dragged me in!"
According to a history of the club written by John Hergenroeder, for many years membership was restricted to males only, who also played female parts in the annual productions. Women were not allowed in the shows until 1938.
Prior to that time, women worked behind the scenes handling costumes, decorations, etc. Membership was opened to women in 1994, and today women make up more than half the membership, which is open to anyone 18 or older. Annual dues are $50.
The first Paint and Powder charity production was held in February 1894 at the Ford's Theater on Fayette Street. It was written by Baldwin Sloan, who later became a leading composer of Broadway musicals. The show raised $5,800, which was donated to the Children's Country Home.
Since that time, most of the charities supported by the club have to do with children or the arts. The club estimates that, since its inception, well over $1 million has been donated to various organizations in the state. Beneficiaries of this year's musicale will be the Maryland Conservatory of Music and the Maryland State Boychoir.
Scholarships for young members
In 2014, the Club established dance and voice scholarships for young members of the cast. Two $1,000 scholarships are awarded each year on the last night of the show to the best new members of the show's cast.
The purpose of the award is to encourage young people to participate in the shows, to bring in a new audience in the form of friends and relatives of the candidates, and ultimately to become members of the club.
"We're looking for members, especially younger ones," said Jerry Chiat, who will serve as president next year. "We want to get the word out."
Chiat, 70, and his wife, Eileen, 69, have been members of the Club for 10 years. Eileen serves on the board and also is stage manager for the upcoming show. "We all get along well, and we do good work," she said.
"We come from all areas of town and all different backgrounds, but the club is a chord that holds us together," agreed King-Rose. "We develop friendships and we support each other. It's really something very special."
Tickets for Bonbon's Naughty, Bawdy, Gaudy Musicale are $80. The cost includes a buffet and open bar beginning at 6 p.m., with the show at 8 p.m. Performances are June 2 and 3 at the Scottish Rite Masonic Center, 3800 N. Charles St.
For tickets, call (410) 527-0128 or email C. Manning at manning726@verizon.net. For more information, see https://paintandpowderclub.org.