Arts
Radio show saves Richmonders money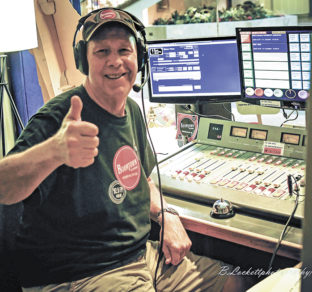 Every morning except Sunday, "Big" Mike Mazursky hosts the Radio Shopping Show on Boomtown Richmond Radio.
The live daily show, which airs from 10 a.m. to noon, offers listeners discounted gift cards to local businesses — sometimes very discounted. Its "daily doorbuster deals" offer a limited number of $10 gift cards to local pizzerias or other restaurants for just $1.
"It's like QVC on the radio," said Mazursky, 62, president of Boomtown Richmond.
Like QVC, the show has a loyal fan base. Diana Quaid, 59, listens to the show "just about every day," she said. "It's always different every day, so you have to tune in."
Quaid likes to snap up gift cards to grocery stores and restaurants as well as coupons for beauty treatments and oil changes. "It seems insane not to," she said.
For instance, a $10 gift card to the Marketplace grocery store in Mechanicsville costs just $3 to $4 on the shopping show. "How can you go wrong with that?" Quaid asked.
With those savings, Quaid has been inspired to help others. She buys extra Marketplace gift cards and donates food to homeless people in her community or people at her church.
Quaid has been listening to the show since it debuted last year, she said.
Chicago roots
Mazursky introduced the Shopping Show to Boomtown Richmond early last year, but he got the idea from a Chicago-area radio station decades ago.
"The show started 37 years ago in Chicago at a little AM station in Elgin [Illinois] in the 1980s," he said. "They traded advertising for gift cards. That's where it all started."
At the time, Mazursky ran a radio station in Chicago, he said, and "always thought I wanted to do this [kind of show]," he said.
That same radio show may have influenced the founder of Groupon, the online coupon company, Mazursky noted.
Today the Shopping Show has 3,000 registered shoppers. Once a listener registers for free, and uploads their credit card information, they receive a keychain tag and a member number. (The number streamlines the payment process when they buy a gift card.)
So far, the most popular items are the gift cards to restaurants and grocery stores. "Travel is very big," too, Mazursky said. "We do staycations and hotel deals. Before the virus hit, we also had every playhouse in town."
Live from Regency Mall
The Boomtown Radio Shopping Show is broadcast live from its headquarters in the Regency Mall. The studio is open to walk-in visitors.
Mall walker Richard Traylor, 79, often passes by the glass windows of Boomtown Richmond. He will pause his morning walk to play air guitar or wave at the hosts, Mazursky and Rick Moody, the station's chief operating officer. Sometimes Traylor ventures into the studio for a free pastry or a conversation.
"It's really neat," he said. "I joke with Big Mike and Ron Moody a lot."
Traylor also tends to spend a lot on the gift cards. "I think I spend $150 a month on those things, but I use them. You're saving money," he said.
The gift cards aren't just an economic benefit for him; they have improved his social life. The cards encourage Traylor and his wife, Jacqueline, to try new restaurants — such as a diner last month. "It makes you go out a little bit more."
Traylor and the show's loyal listeners say they tune in not only to save money but for the Beatles trivia questions (What's John Lennon's middle name?) and testimonials from other listeners who have tried out a new restaurant or salon, thanks to the discount.
They also enjoy the familiar voice of Mazursky. "Big Mike is excellent; he's like family now," Quaid said.
And when the shopping show is over at noon, Quaid is still tuned in. After all, she said, "Boomtown also has great music."
Boomtown Richmond's Radio Shopping Show airs on 101.7 FM, 92.9 FM, 1320 AM and 1450 AM from 10 a.m. to noon, Monday through Saturday. Listeners can also access the program on the station's website, boomtownrichmond.com, or on its Facebook page.