Arts
Read these books for a dose of nostalgia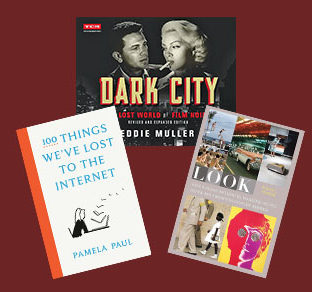 The Bibliophile
One of the prerogatives of aging is looking back through rose-colored glasses at the world inhabited by our younger selves. These books will reinforce your perceptions that the good old days were just as great as you remember.
Look: How a Highly Influential Magazine Helped Define Mid-Twentieth-Century America, by Andrew L. Yarrow, 384 pages, Potomac Books hardcover, 2021
For nearly 35 years, between 1937 and 1971, Look magazine chronicled the events, personalities and lifestyles that shaped this country at the height of its superpower status. The biweekly large-sized periodical, which emphasized photography, boasted 35 million readers at its peak.
Look, the book, lauds the talented photojournalists and reporters who graced the magazine's pages. Politicians, historians and best-selling authors contributed thought-provoking articles. Cutting-edge issues such as civil rights and emerging trends like feminism were presented in a positive light to a wide audience.
With its vast circulation, author Andrew Yarrow contends, the publication shaped a consensus that kept extremism at bay and forged a national unity. He bemoans the fragmentation of our culture since the magazine's demise.
The book's 61 illustrations, culled from the 180,000 that appeared in the periodical's pages, will take you down memory lane. You should readily spot, in a 1950 photograph, the misidentified crooner standing alongside Judy Garland.
Prolific author and former journalist Yarrow earned his PhD from George Mason University. He resides in the Greater Washington, D.C. area.
100 Things We've Lost to the Internet, by Pamela Paul, 288 pages, Crown hardcover, 2021
Pundits lament the deterioration of good manners, the loss of civility and the hectic 24/7 nature of modern life.
Contemplating the world from the quiet solitude of a comfortable chair and a large window has become passé. Seniors carp about the loss of deep friendships cultivated in a less stressful society. Many blame the smartphone.
Lo and behold, here comes a Gen X-er who validates those observations. Pamela Paul, editor of the New York Times Book Review, writes from the vantage point of a professional woman and parent who has no choice but to follow along with the trend.
Paul delineates positive aspects of life that have been lost to being wired to the world wide web, such as turning the pages of the morning newspaper; exchanging hand-signed greeting cards through the mail; enjoying an uninterrupted meal at a restaurant; and watching a live performance without upraised phones snapping photos and obstructing the view.
Many older adults have adapted to the digital universe but have resisted transitioning exclusively to the new online obsession. This book will reaffirm that choice.
Dark City: The Lost World of Film Noir, by Eddie Muller, 272 pages, Running Press hardcover, revised and expanded edition, 2021
Survey the genre of film noir in this comprehensive and lavish large-format book. Dark City is written with panache and vast erudition by film aficionado Eddie Muller, who is on a mission to resuscitate and gain recognition for this art form, which reached its height of fame between 1948 and 1952.
Muller writes cogently and imparts an overarching perspective that weaves the stories behind hundreds of movies into a cohesive and fascinating narrative. While some critics may dismiss their artistic merit, Muller lauds noir movies as realistic depictions of American civilization in the post-World War II era.
The films are grouped into 13 categories, each with its own chapter. In-depth biographies and filmographies of stars of that era are inserted into the narrative.
Reprise the careers of Joan Crawford, Barbara Stanwyck, Lizabeth Scott, Robert Mitchum, John Garfield, Robert Ryan and other luminaries. More than 200 images, including stills and publicity shots and more than 30 color posters, accompany the text.
Muller, who is in his mid-60s, transformed his youthful obsession with film noir into a dazzling franchise. He is founder and president of the Film Noir Foundation, which finds, preserves and restores lost noir classics. He is host of the weekly Turner Classic Movies cable channel's "Noir Alley."
Muller has also presented films at the AFI Cinema Noir City DC Film Festival in downtown Silver Spring, Maryland.
Correction: The print version of this column referred to 60 million images published in Look magazine. In fact, the magazine published about 180,000 photographs. We regret the error.