Arts
Recalling the heyday of Baltimore theaters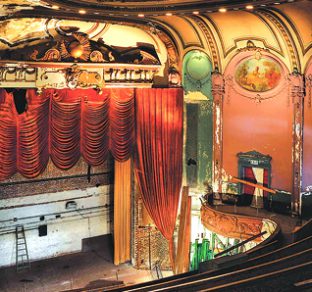 The 1,100 seat Parkway Theatre opened its doors in 1915 and closed in 1978. The Stavros Niarchos Foundation reopened it as an art theater in 2016. Its history is described in a new book, Flickering Treasures, by Amy Davis, about the hundreds of movie theaters that have opened (and closed) in Baltimore.
© Amy Davis
When photographer Amy Davis began researching Baltimore's forgotten movie theaters nine years ago, she had no idea how many of these structures were still standing.
Her new book, Flickering Treasures: Rediscovering Baltimore's Forgotten Movie Theaters, celebrates 72 of the more than 240 theaters that have existed in Baltimore since 1896. Only 11 of the movie houses featured in the book have been completely razed, though many others are no longer recognizable as theaters.
The book is an offshoot of a photo essay that Davis did for the Baltimore Sun, where she works as a full-time photographer. Davis received so many letters from readers wanting to find out what had happened to their favorite theater that she decided there was enough interest to warrant a book.
"People have so many fond memories of the old theaters," said Davis, 61. "In their heyday, movie theaters were the hub of the community. Now, so many of the buildings that remain are surrounded by dollar stores, liquor stores and the like. They're the center of decay and neglect, not of a vibrant community."
Davis hopes that her book will spark a dialogue about the remaining theaters and what to do about them.
"I am indebted to Robert K. Headley's book, "Motion Picture Exhibition in Baltimore," which provided a good starting point in my hunt for the survivors," said Davis. "We can count the number of current movie theaters in Baltimore City on one hand — but in 1916, there were an astonishing 119 nickelodeons in Baltimore City. It turns out that movie houses have been opening and closing frequently since the silent movie era."
Theaters then and now
Some of the vintage photographs Davis discovered in her research have never been published before. Her new color photography shows the startling changes these buildings and streets have undergone. "I spent hours photographing each theater, as I waited for the perfect light and the serendipity of street activity," said Davis.
Davis herself doesn't have a favorite theater, saying, "For me, each theater has a distinct personality."
Davis interviewed more than 300 people to collect the poignant reminiscences that accompany the photographs and descriptions of each theater. "These stories bring each theater and neighborhood to life," she said.
Notable Baltimoreans who shared their memories with her include filmmakers Barry Levinson and John Waters, actors John Astin, Michael Tucker and Conrad Brooks, former Mayor Tommy D'Alesandro III, and former City Councilwoman Rochelle "Rikki" Spector.
Levinson, who also contributed the foreword, recalled his first date at the Crest Theater on Reisterstown Road, which was across the street from the diner he immortalized in film.
Movie buffs' reminiscences
It's not only the well-known whose memories of their favorite theater are included in the book. On the west side of Baltimore, retired schoolteacher Paul Kreiner recalled how the nuns at St. Bernadine warned students not to see a racy movie at the Edgewood Theater on Edmondson Avenue. The nuns claimed that they had rented a room across the street to monitor who went inside the theater.
Across town, Faye Better, a retired bookkeeper, remembered being kicked out of the Roxy Theater on East Fayette Street as a young girl because the kids seated near her at the Saturday matinee complained about the smell of the kosher pickle her mother had packed in her lunch.
Even at 302 pages, Davis has found that there are memorable stories and striking photographs that didn't fit into the book. She plans to post these periodically on the "Outtakes" blog on her website, www.flickeringtreasures.com.
Now that the book has been completed, Davis will not only continue to work as a staff photographer at the Sunpapers, but after her years-long immersion into the world of movie theaters, "I look forward to reading more books on other topics — and going to the movies!"
Davis's solo photo exhibit, "Home Movies" at Gallery CA in the City Arts building, examines the more modest neighborhood movie houses in Flickering Treasures. It will be on display through Nov. 30. The gallery is located at 440 E. Oliver St. at the corner of Greenmount Ave. Usual gallery hours are noon to 4 p.m. Monday through Friday.
Gallery CA is a contemporary arts space located on the ground floor of the City Arts building, which houses 69 artist live/work spaces. For more information, call (410) 528-9239.
Davis will be speaking about the book at several other venues in November and December. See http://flickeringtreasures.com for more information.
The book Flickering Treasures is available for purchase at the Ivy Bookshop, from Barnes and Noble, and at Amazon.com.