Arts
Retirees rediscover the joys of learning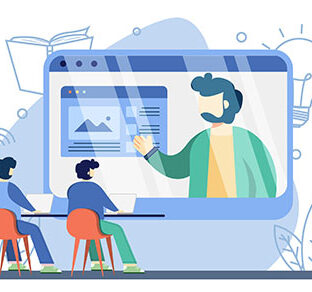 Image by imajin noasking on Vecteezy
Grade school and college students don't have to be the only ones heading back to the classroom this fall.
Lifelong learning programs are abundant in our area, and there's something for everyone. Opportunities range from one-off lectures to semester-long courses, both in-person and online, and cover a variety of subjects and activities.
Veronica Salles-Reese taught at Georgetown for 27 years and now directs the Learning Community program at Georgetown University, which offers courses taught by retired GU faculty to their peers as well as members of the public.
"I do not like the word 'retired,' because it's 'twice tired' or 'put aside,'" Salles-Reese said. "In my own language, Spanish, the word is 'jubila' — that you are 'joyful.' And I think that is what comes to life in those courses."
With no exams or grades, lifelong learning cultivates a stress-free environment for intellectual enrichment along with space for students to socialize.
David Bernstein is in his tenth year taking courses with the program, where he's studied everything from current politics to the relationship between science and religion.
"In too many situations, whether it's lack of opportunity or lack of incentive, the older adult simply accepts their lot and says, 'I'm old; there's not much I can do,'" Bernstein said. "But this stuff is stimulating! The scholars are the best and brightest in their field."
Lifelong learning groups
In addition to college-style lectures and seminars, many lifelong learning programs offer courses on exercise, travel, technology and everything in between.
Barbara Paulson is both a student and volunteer with Washington Metro Oasis, an educational program for people 50 and older. There she has taught around 30 courses about her "off the beaten path" travel tips for destinations in the mid-Atlantic and Europe.
"Each thing that I learn builds on something I learned before," Paulson said. "I get more texture in my life when I participate in these classes."
For Henrietta Keller, a student and volunteer online moderator with Oasis, sustaining one's education is a way to seize the day.
"It's a chance to delve into something you thought you might have an interest in and actually do it," Keller said. "And there's definitely an element of fun."
Here are details about some of the area's lifelong learning opportunities:
Encore Learning
Based in Arlington, Virginia, Encore Learning offers a variety of noncredit college-level courses, clubs and activities, both on Zoom and on-site throughout Arlington. An Encore Learning membership is required to enroll, which costs $65 annually, and each course costs $55.
All classes are available to those who are 50 and older, regardless of residence location. To learn more, visit encorelearning.net.
Georgetown University
GU offers two programs for older adults: the Learning Community Program and the Senior Citizen non-Degree Auditing Program.
The GU Learning Community is open to those 55 and older. Courses are taught by volunteer retired GU faculty and are currently offered only online. Courses are $30 each and meet for three or four sessions of 90 to 120 minutes.
The Non-Degree Auditor Program allows those 65 and older to enroll in undergraduate courses on the main campus without paying tuition. Students must obtain consent from the professor prior to auditing the course. There is a fee of $32 per credit.
To explore both opportunities, visit bit.ly/LifelongLearningGU.
Montgomery College Lifelong Learning Institute
MC Lifelong Learning offers more than 140 online and in-person courses across Montgomery County designed for people 50 and over. In-person courses are available on its many campuses as well as in county libraries.
Tuition and fees vary by course, but those 60 and older pay only the fees.
For more information, visit bit.ly/LifelongLearningMC or call (240) 567-5188.
Osher Lifelong Learning Institutes (OLLI)
The Osher Foundation operates several programs in the Washington and Baltimore-metro areas. Designed for people 50 and older, courses have no grades or tests, and cover an array of subjects. Many are taught by older adults as well.
To learn more about OLLI at American University, visit olli-dc.org or call (202) 895-4860.
OLLI also offers a program through Johns Hopkins University. Those classes meet in-person at various locations in Montgomery County as well as in Baltimore. For more information, visit osher.jhu.edu.
Senior Planet by AARP
If you're 60 or older, Senior Planet's live online classes are available for free no matter where you live. In addition, in-person classes are held at several locations in Montgomery County.
Take a morning stretch class, learn more about your smartphone or smart TV, take a virtual museum tour, or take part in a free discussion with other older adults.
To sign up, visit seniorplanet.org/Montgomery or call (240) 753-0676.
Washington Metro Oasis
People 50 years and older can take Oasis courses on technology, history, literature and health. The program offers courses on a rolling basis both online and in-person at Montgomery Mall. Cost varies by course.
Participants can also sign up for Oasis' various volunteer opportunities, which includes an intergenerational tutoring program.
To learn more about Oasis, visit washington-metro.oasisnet.org or call (240) 800-3745.