Arts
Sculptor found art after many careers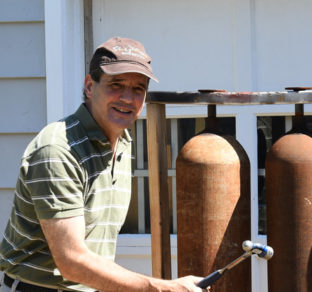 Maryland artist Paul Steinkoenig salvaged industrial gas cylinders to make musical bells for his sculpture "Sanctuary II: Faith, Hope, and Love." The work will be installed in Cooksville as part of Howard County's annual ArtSites program, which places art in public spaces.
Photo by Paul Steinkoenig
Paul Steinkoenig has pursued many interests and careers in his 59 years. The Hyattsville resident has been a Methodist minister, a psychotherapist, a state department intern, and a United Nations volunteer in Afghanistan.
But he feels he has now, finally, found his true calling: art. And the Howard County Arts Council seems to agree.
In August, an eight-foot sculpture by Steinkoenig titled Sanctuary II — Faith, Hope and Love will be installed in front of the Gary J. Arthur Community Center on Route 97 in Cooksville.
Steinkoenig is one of only two local artists chosen to show their works through Howard County's program, ARTsites2019. The program is placing a total of 13 sculptures in county government buildings, community centers, a hospital, a college campus and even a shopping mall.
Maryland artist Jeff Chyatte is the other area artist whose work was chosen. The other 11 sculptors live and work outside of Maryland.
The Howard County Arts Council said its annual outdoor art project is meant to "engage the community and enhance public spaces" as well as "increase access to the arts."
Steinkoenig also feels that paintings, sculptures and other works of art shouldn't have to be shown exclusively in art galleries and museums. Public art should, and hopefully will, "bring beauty into everyday life," he said.
The county has joined a growing number of communities across the U.S. to prioritize public art. Local government officials around the country have found that public art can lead to increased levels of community engagement, and can foster community revitalization, social connections and even improved health outcomes.
His tuneful sculpture
Steinkoenig's abstract work appeals to multiple senses. It consists of three steel cylinders that resemble oxygen tanks with wooden clappers inside.
The artist noted that his upbringing in a musical family — "I played seven instruments by the time I was 12" — inspired him to work on "tuning" the wind-sourcing sound to produce "soft wooden tones" instead of clanging bells.
He added that he gave up his budding musical career because he wasn't overjoyed by performing. He went on to other disciplines, only truly finding himself as a sculptor six years ago.
Besides the art, he also works as an independent contractor doing home remodeling. Those more mundane tasks, the artist said, "pay the bills."
Now, however, "I'm happiest when I do my art," he said. "It gets me excited; it gives me purpose. Doing sculpture is a true blessing."
A varied career
One could say that Steinkoenig has a background in blessing, having practiced as a Methodist minister after earning a Master of Divinity: Philosophy, Theology and Social Ethics from Boston University in 1987.
After two years, however, he had a change of heart. "I realized that my 'talent' was more in psychiatry."
He then worked as a psychotherapist with gang members in New Mexico prisons for 14 years, and led therapy groups to help rehabilitate victims of domestic violence and drug abuse.
While later studying for a Master of International Policy and Practice at George Washington University's Elliott School of International Affairs (which he earned in 2004), Steinkoenig worked as an intern in the U.S. State Department's communications office.
"I fielded phone calls from reporters around the globe who were asking questions about official Department of State policy positions," he said.
Then in 2005, he spent a year in Afghanistan as a volunteer for the United Nations. With the aid of a translator, he worked "to teach the local population what it means to have a democratic election."
The effort was in conjunction with parliamentary elections being held in a region in the far northeastern corner of the country. That was, he recalled, "a dangerous place where, at that time, even the U.S. military would not set up a compound due to constant threat from the Taliban."
Steinkoenig's time in Afghanistan was "scary," but also "incredible," he said. The U.N. volunteers were "breaking into a new frontier for the possibility of a new democracy, where each person counts, each vote counts, each new idea holds a new vision for peoples' lives."
He noted that 14 years later, he is still in contact with some of the Afghans he met there.
After all of these career adventures, Steinkoenig believes he has now found his true self. "I feel like I have been an artist at heart all my life and never gave myself permission to pursue it in a lot of depth," he said.
"My art really makes me feel alive. I've rearranged quite a few things and left a few jobs I was working on and made that happen."
For more information about the artist and his works, go to PaulSteinkoenig.com.