Arts
Sculptors, carvers use humble materials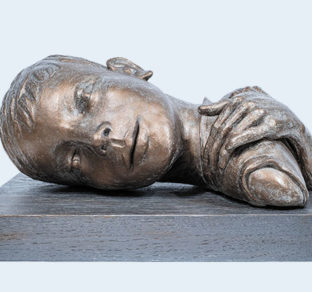 Solace by Pearl Chang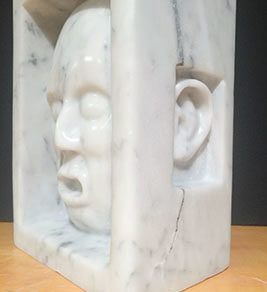 Captive by A. Barry Belman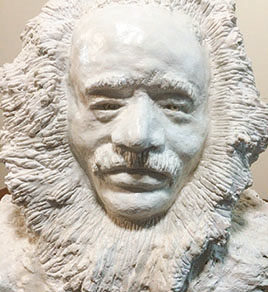 First Man to the North Pole by Addison Likins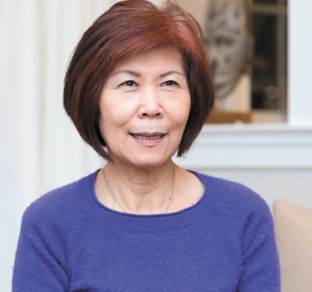 Pearl Chang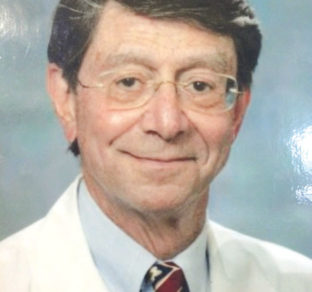 A. Barry Belman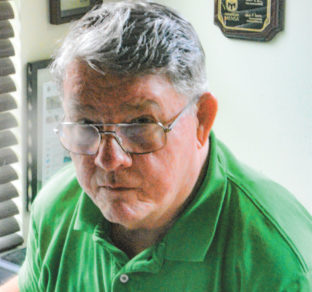 Addison Likins
American sculptor Malvina Hoffman wrote in 1939 that "sculpture is a parable in three dimensions, a symbol of spiritual experience, and a means of conveying truth by concentrating its essence into visible form."
Whether it involves building up materials like clay or carving away stone, sculpture can tell a distinct story, memorializing a person, a moment in time, or even an emotion.
The three artists whose work won the top three awards in the Beacon's Celebration of the Arts contest create differently, but all of their works convey a narrative, a parable in three dimensions.
First Place
Pearl Chang
Rockville, Md.
Pearl Chang, 77, has always had an interest in art and loves visiting museums and galleries. "I [taught] myself how to see things in the art," Chang said.
Until she retired seven years ago, however, Chang was too busy with her job in immigration policy and strategy to create her own art.
After retiring, Chang began taking sculpture and Spanish classes at Montgomery College. "I started from scratch," Chang said. "I had never handled clay before."
Chang imitated other artists until she was comfortable enough to develop her own style. Along the way, she developed a love for expressive sculpture.
"Expressive sculpture can put a lot of ideas in one type of work and mean different things to different people," Chang said.
Chang's award-winning sculpture, "Solace," presents a child being comforted by a loved one whose hands rest on their shoulders. "The work conveys a story," Chang said.
She was inspired by a photograph of a grandson resting his head in his grandmother's lap. That made Chang think about how much support and care kids need from their families, especially with the prevalence of bullying.
Chang also thought of her own experiences as a child. She used to get migraines, and her mother would gently pat her head until she was able to go to sleep.
At its essence, the work conveys the love and support of a caregiver for a child.
Chang also received an Honorable Mention for her work "Introspection."
Second Place
A. Barry Belman
Rockville, Md.
Barry Belman, 82, spent his career as a pediatric urologist. "I worked with my hands in 3D all my life," he said.
When he retired about 10 years ago, he started taking classes at Montgomery College, first in clay, and then in wood and stone.
Belman created "Captive" for an assignment after a classmate gave him a block of marble he no longer wanted to use. Every day for months, the block of marble sat in his garage as he contemplated what to do with it.
One day, Belman felt inspired to create a face imprisoned in the block. "It was just a subconscious idea that jumped out," he said. Once the idea took hold, Belman spent time trying to figure out how to create the work.
Marble offers little flexibility; he couldn't add onto the piece if he had taken too much away, he could only subtract. "It's a good challenge," Belman said. "Creating art is gratifying emotionally and psychologically."
Belman's decades of experience working as a surgeon and training other surgeons prepared him for the challenge of visualizing a work of art and thinking about it in terms of depth, height and width.
"As a surgeon, I wasn't aware that I was thinking about my work in that way, but I was," he said.
While he originally named the piece "Captive," on further consideration, he said he should have named it Coronavirus. "It's perfect for what we're all going through," Belman said.
Third Place
Addison Likins
La Plata, Md.
Addison Likins, 72, first realized he was interested in art when he won a contest in second grade. "We didn't have art in my high school," Likins said, "so I didn't have any formal instruction."
Likens has worked as a reporter, editor, teacher and analyst, but he honed his artistic skills while working for the Maryland Science Center, where he created sculptural exhibits that helped demonstrate scientific principles.
When Likins retired from full-time work, he "went back to his first love" and began exploring photography and sculpture.
Until the pandemic, he also worked as a freelance reporter and photographer for the Maryland Independent, in part to support his art habit. "It gets expensive," Likins said.
Likins has exhibited in numerous galleries in D.C. and Maryland, including the Maryland Federation of Arts Circle Gallery in Annapolis and the Fredericksburg Center for the Creative Arts.
For Likins' award-winning sculpture, he created an image of Matthew Henson — the Charles County resident who accompanied Robert Peary on his mission to the North Pole and claimed to be the first person to actually step onto that unexplored ground.
"Henson's great-great grandson saw the piece at a show and said it looked just like Henson," Likins said, delighted to have received such high praise from a relative.
For this piece, Likins used a material that had been sitting in his workshop for years. Made from insulation that had been ground into fine dust, it works as clay when water is added and then hardens like marble.
"It was really tricky to work with," Likins said, "but as a scientist, I love playing with new materials."
Likins was also awarded an Honorable Mention for his sculpture entitled "Game Over."
Honorable Mentions
Pearl Chang, Rockville, Md.
Addison Likins, La Plata, Md.
Doris Herman, Potomac, Md.
Elizabeth Steel, Rockville, Md.
Christopher Ruch, Ebony, Va.
Manny Eisner, Pikesville, Md.
Nathalie Pouliquen, Bethesda, Md.
Jo-Ann Marshburg Wilson, Bethesda, Md.
Patrick James Rowland, Gaithersburg, Md.
Nico Ambush, Frederick, Md.
Sandra Valeria Franklin, Potomac, Md.