Arts
Sculptor's works express historical truths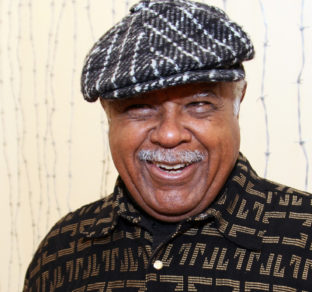 Melvin Edwards' exhibit at the Baltimore Museum of Art includes metal sculptures that incorporate shackles, horseshoes and agricultural equipment.
Photo courtesy Alexander Gray Associates, New York
Melvin Edwards melds the story of African-American past and present through sculpted steel. Now through January 12, his work can be seen at a solo exhibition at the Baltimore Museum of Art (BMA).
During his 60-year career, the revolutionary sculptor has had more than a dozen solo exhibitions and was part of nearly 50 group shows. Edwards was also the first African-American sculptor to have a solo exhibition at the Whitney Museum of American Art, in 1970.
Edwards, now 82, creates art that addresses post-colonialism, slavery and cultural changes in America.
The exhibition, titled Melvin Edwards: Crossroads, features 18 works, including some from his 200-sculpture series Lynch Fragments. Made of twisted steel and incorporating shackles and chains, horseshoes and bolts, the works span from 1980 through the present.
Other works in the show include a full-room installation, titled Agricole, of suspended chains linked to agricultural equipment. The piece relates to the slave trade and resulting African diaspora.
"Creativity, in many ways, is a constant struggle to move the world ahead in a positive way," Edwards told the Beacon. "I would hope that the world can be a little more thoughtful about some things because I try to work on bigger ideas."
Not all art is Western
Edwards was an arts professor at Rutgers University for 30 years. Hoping to expand students' conceptions of canonical Western art, he created a curriculum there that centered around what he termed Third World Art.
"It wasn't a history class, but I would bring slides and information from my travels all over the world," he explained.
In his class, he dedicated one day each week to another culture that was typically passed over in favor of a Western art education.
Sometimes, he would bring in an artist or filmmaker to showcase their work, to expand the students' understanding about cultures outside their own.
"Many people make art in the world," Edwards said. "I'm always happy to see what people are doing from everywhere."
A love of art from childhood
Edwards was born in Houston in 1937, the eldest of four children. When he was seven years old, his father got a job as an executive for the Boy Scouts of America in Dayton, Ohio, so the family moved north.
"That was the first place I ever saw an art museum, the Dayton Art Institute," Edwards recalled. "We would go there after school and bang on the harpsichord. The old guards, who were the age that I am now, couldn't catch us."
But beyond a place for mischief, the museum became a place where Edwards learned about life and culture outside of his own daily existence. Around the same time, his interest in art grew in elementary school art classes.
"I started to learn something about art in the fourth grade," he said. "But when I hit high school, the art got to be more serious."
It was during his college years at the University of Southern California that Edwards realized he would become an artist. He received a scholarship to the Los Angeles County Art Institute, where he began by studying painting and drawing.
It was only by chance, after becoming disillusioned with his sculpture classes, that he stumbled across welding.
"I saw a graduate student welding, and I got him to teach me the mechanics of [it]," Edwards remembered. From then on, he worked as a metal sculptor.
Today, Edwards' abstract metal sculptures are part of the collections of New York's Metropolitan Museum of Art, Museum of Modern Art, and Houston's Museum of Fine Arts.
He also was elected to membership of the National Academy of Design, and was granted an Honorary Doctorate of Fine Arts from the Massachusetts College of Art and Design.
Major influences
Throughout the Civil Rights era of the 1960s, Edwards became increasingly interested in what was happening at the intersection of art, literature and politics.
He was especially affected by the Négritude movement of the 1930s through 1960s, which was inspired by the Harlem Renaissance. It was a literary movement in which Parisian writers protested French colonial rule and emphasized African heritage.
The movement was founded by three poets: Léon Damas of French Guiana, Léopold Sédar Senghor of Senegal, and Aime Cesaire of Martinique. Edwards' sculpture Agricole is dedicated to Damas.
"I learned a great deal from them," he said of the poets. "What was possible — and not to be limited by other people's idea of what it meant to be African."
Edwards spent the next two decades teaching and working in New York City, Plainfield, New Jersey (near Rutgers), Baltimore, Zimbabwe (where he had a Fulbright Fellowship), and Dakar, Senegal.
"In each of those places, I had a residence or a place of work," he said. "And for me, there's a certain style associated with the work that was made in each place."
As for his future work, Edwards has no shortage of projects.
"I just keep trying to develop the ideas that I have already," he said. "I have way too many ideas for two or three lifetimes.
"It's never too late, you know, to keep working and to have ideas."