Arts
Shades of gray keeps it rockin'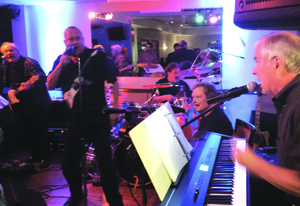 The band Shades of Gray plays every other Saturday night at JW and Friends restaurant in Springfield, Va. A number of local rock and blues bands feature musicians who have been performing for decades — and have the gray hair to show for it.
Photo courtesy of Shades of Gray
Ken Hunter got hooked on playing guitar back in the fourth grade, when he and a classmate went on their first "tour" — to other classrooms to play and sing in Everly Brothers-type harmony. By age 10, they played on Falls Church-based WFAX radio.
And even though as a kid Hunter was rejected from "Ted Mack's Original Amateur Hour," the Woodbridge, Va. resident is still playing guitar 58 years later in a rock band called Shades of Gray. (No, not that "Shades of Gray." Its members all have gray hair now.)
The Washington area is home to numerous bands whose members have playing for decades in local bars, school stages and town squares. Bands like the Nighthawks, based in Maryland, play locally much of the time, but also tour nationally and produce CDs.
For some, like Shades of Gray, the band is an accompaniment to full-time careers in other fields. Hunter, for example, does production work at radio station WMAL, and has also been a disc jockey at a number of stations.
Steve Andrzejczyk (An-dre'-zik), who works at the Beacon part time managing its website and social media posts, plays in not just one, but two bands in his free time: 49¢ Dress and Big Lunch.
Both bands play a range of rock songs, from 1960s hits to recent top 40s songs. That means the bands draw a diverse crowd dancing to the tunes at outdoor summer concerts — from boomers to toddlers.
While the 49¢ Dress band has members born in three different decades, all those in Big Lunch are over 50. Andrzejczyk first picked up a guitar at age 12 and hasn't stopped playing since.
"I've always loved music, and can't imagine it not being a part of my life. When I'm not playing, I'm listening," said Andrzejczyk, who is 59 and lives in Silver Spring, Md.
He said he enjoys the social aspect of being in the bands as well. "I've read playing music keeps the mind sharp as you age, as does social interaction. So combining the two has to be a good thing," he noted.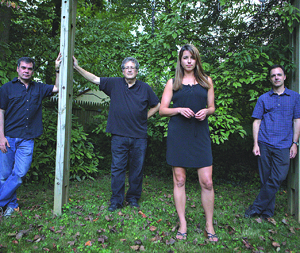 Music's lifelong benefits
Studies back him up. Emory University neurology professor Brenda Hanna-Pladdy found that playing an instrument for 10 years or more is associated with greater cognitive abilities in older adults. The results of the 2011 study were published in the journal Neuropsychology.
"Musical activity throughout life may serve as a challenging cognitive exercise, making your brain fitter and more capable of accommodating the challenges of aging," Hanna-Pladdy said.
"Since studying an instrument requires years of practice and learning, it may create alternate connections in the brain that could compensate for cognitive declines as we get older."
The musicians in the study of people aged 60 to 83 had better visual-spatial memory, better ability to name objects, and greater cognitive flexibility — the brain's ability to adapt to new information.
Another study found that older adults with musical training are better able to perceive speech in a noisy environment than non-musicians — even if they had only four to 14 years of musical training decades earlier. They also had better auditory working memory, according to the study by Northwestern University researchers published in the Journal of Neurology in 2013.
Better with age
Band members say that age brings positive changes to the dynamics among the players.
"One of the biggest problems in groups is you have five, six, seven people, and they're all musicians who have very fragile egos to begin with," Hunter said. "Everybody has their own ideas what music they like, the reasons they like it, what we should be playing.
"Trying to get everybody on one page is like herding cats. That's why so many bands play together for a year or two and then split up," Hunter said.
In Shades of Gray, "we just don't take ourselves real seriously, because the ego problems that exist with so many younger bands have just faded away," he continued. "At this age, no one thinks they're going to be a rock star. We just have a lot fun."
It's far from lucrative, and the band's main gig is playing at JW and Friends restaurant in Springfield, Va. every other Saturday night. But Hunter also performs with a larger ensemble at weddings, which pay better, he said.
Shades of Gray plays covers of classic rock, swing and blues songs, playing to the preferences of an audience whose youth was steeped the music in the 1950s, '60s and '70s.
"We might be old, but we still rock, and we've been doing that 50 years. We're not playing old people music — we play rock and roll, the music we grew up with. No sad ballads. Even if you don't dance, it's still music you'll tap your foot to," he said.
At the same time, Shades of Gray is trying to work new tunes into its repertoire of the tried and true, which Hunter admits can get old playing week after week.
"Half of those songs are ones you're sick to death of, like 'Mustang Sally.' I'd almost rather put a gun to my head than play it, but we have to, because a lot of these crowds want to hear it and dance to that song. It's a staple, something they relate to. In between we try to mix it up a bit and keep it fun."
Still touring nationally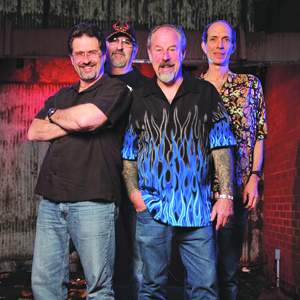 Mark Wenner, a founding member of the Nighthawks, has been a mainstay of the five incarnations of the band since it began 45 years ago. Unlike many other local bands, playing music is a full-time career for members of this blues-and-roots rock band, whose members are all over age 60.
The Nighthawks have released six CDs in the last decade. The newest comes out in July. Wenner has released solo albums as well.
He got his start in New York soon after college, bluffing his way into being lead singer.
"In those days, the PA systems were so primitive and underpowered that I got away with it for a couple years, just jumping around like I knew what I was doing. I couldn't hear a thing I was actually singing," he recalled.
"When I moved back to D.C., I presented myself as a singer/harmonica player/front guy, and everybody bought it and I got away with it," said Wenner, who continues to sing today.
The Nighthawks have played in 49 states and 10 countries, often performing 300-plus days a year. They are just back from Nashville and a tour of the Midwest, but will stay in the area through most of the summer — playing at local restaurants, outdoor concerts and local festivals before heading back on the road for blues festivals and other gigs in Ohio, New Orleans and Niagara Falls.
Early on, before they got their big breaks, such blues and rock luminaries as George Thorogood, Stevie Ray Vaughan and Robert Cray used to open for the Nighthawks, Wenner said.
"We brought them to D.C. as unknowns, but they quickly surpassed us. The big break eluded us. We even used to joke about it: Maybe the way we could make it was to form another band and open for ourselves!
"Sure there was frustration, but then I just stopped caring and realized I was having a pretty good damn time," he said.
Still, keeping up with gigs across the country feels more grueling as he gets older, said Wenner, who is 68 and lives in Kensington, Md. He took six weeks off after heart bypass surgery five years ago.
At clubs that schedule two bands a night, the Nighthawks are usually the first performance.
"I think it's sensible enough to do 5, 6, 7 o'clock shows. As we're going out the door at 9, we see kids with spiky, weird color hair coming in" — which is funny coming from a guy with tattoo sleeves on both arms.
"We play at 7:30 at Jammin' Java [in Vienna, Va.]. By 10:30, I'm on the road and by 11, I'm at home in front of the TV with the clicker. For a 68-year-old, I'd say that's kind of perfect."
Learn more about the bands in this story and where to hear them at:
http://shadesofgrayband.com/
http://49centdress.com/
http://www.biglunchband.com/
http://www.thenighthawks.com/