Arts
Shakespeare group adapts to the times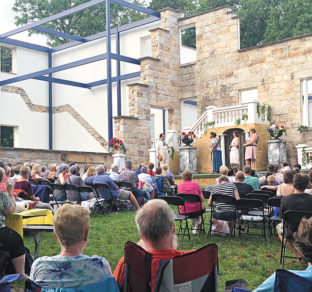 Last summer, audiences enjoyed the comedy Love's Labour's Lost at Chesapeake Shakespeare Company In-The-Ruins at the Patapsco Female Institute Historic Park. The company has performed in the outdoor venue every summer since 2003, but had to cancel this year's performances due to the coronavirus.
Photo by Chesapeake Shakespeare Company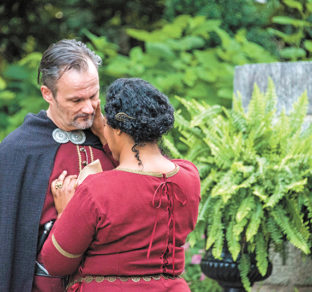 Tamieka Chavis played Lady Macbeth in last June's outdoor performances of Macbeth (Movable). In the "movable" version of the play, audiences were asked to travel with the actors through the preserved ruins of a 19th-century girls' school.
Photo by Chesapeake Shakespeare Company
All went well during the regular 2019-2020 season of the Chesapeake Shakespeare Company, which included stage productions in its downtown Baltimore theater of Measure for Measure and Hamlet as well as A Christmas Carol. 
But this summer, the theater hit a glitch, otherwise known as the pandemic. Normally, the company's educator program includes both an extensive matinee series, camps, classes and in-school and out-of-school residencies. 
This summer, however, all of the theater's programming will be hosted virtually, including its online summer camps and classes for adults.
Zounds on Zoom
One special course is geared to military personnel and veterans. "Why Do You Keep Alone?," a Shakespeare scene study group (presented in partnership with the Steven A. Cohen Military Family Clinic at Easterseals) began in May and continues through July 29. 
Under the instruction of Ron Heneghan, CSC's director of education, the students at a recent Zoom session of the course tackled the linguistic and meaning aspects of four passages from Shakespeare. The selections, taken from Othello, Macbeth and Hamlet, were related to military life.
Other online courses this summer are "Play On!," a critical analysis of several plays (July 13-Aug. 17); "Speak the Speech," for practice of classical monologues (July 14-Aug. 18); and an "Introduction to Shakespeare and His Contemporaries" (July 16-Aug. 20). 
Yorick and more on YouTube
Additional online programming will also be available for free on the CSC's YouTube channel (search Chesapeake Shakespeare Company at youtube.com). 
In "Sequestered Shakespeare," which launched in April, CSC resident actors and company members have been self-producing videos featuring soliloquies, sonnets and songs. 
Its YouTube "Past is Prologue" video series, introduced May 15, features a new conversation each week between Ian Gallanar, the CSC's artistic director, and a member of the global Shakespeare community. They discuss the role of theater in education, gender and Shakespeare, race in Shakespeare plays, and the "right" way to update Shakespeare.
The company normally performs out of a renovated building in Baltimore modeled after London's Globe Theatre, as well as in the ruins of the 19th-century Patapsco Female Institute in Ellicott City. 
Its goal is to produce "Shakespeare that is not stuffy," Gallanar said. 
"Our mission is to engage our communities in the exploration of what makes Shakespeare so timeless and relevant while strengthening the connection between audience and artist."
Although the theater remains connected to its audience, the hope is that these online courses will only be temporary. "As things change, we can revert to traditional classes," Malin said. 
"We will also get back to share outdoor theater under the stars with our friends and neighbors as soon as it's possible."
There is a fee for each course except for "Why do You Keep Alone?," which is subsidized. To learn more, contact the theater at (410) 244-8571 or call info@chesapeakeshakespeare.com.