Arts
Shakespearean spoof amuses at Toby's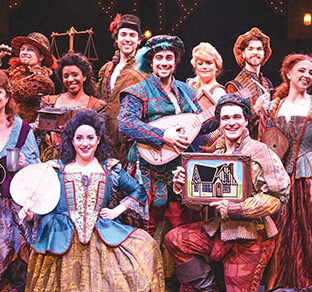 The full cast of Something Rotten performs the opening number, "Welcome to the Renaissance." The musical runs through March 19 at Toby's Dinner Theatre in Columbia, Md.
Photo by Jeri Tidwell Photography
The musical Something Rotten, currently running at Toby's Dinner Theatre, is both thoroughly Shakespearean and completely modern.
In the tradition of Cole Porter's Kiss Me, Kate, this madcap 2016 Broadway musical pulls names and characters from the Bard's most famous works and turns them on their head in very amusing ways.
For example, Nick Bottom, the blustering anti-hero from A Midsummer Night's Dream, is here a playwright jealous of his more successful rival, William Shakespeare.
Even more incredibly, Bottom meets the nephew of the famed prophet Nostradamus, who foretells a glorious new art form: the musical.
Adding to the humor are anachronistic references to musicals such as Fiddler on the Roof, West Side Story and The Lion King.
There are likewise clever musical homages to Broadway classics such as South Pacific, Gypsy and Annie, as the score "quotes" melodies from these works.
Jordan B. Stocksdale is irrepressible as Nostradamus, and Toby's regular Jeffry Shankle is a charismatic Nick Bottom, especially in his show-stopping number "A Musical," performed with a Broadway-style chorus.
A mishmash of popular characters
The other performers are also highly entertaining. Nick Bottom's brother Nigel is portrayed with aplomb by Ben Ribler; Nigel's love interest, Portia, is played with delightful slapstick by Marina Yiannouris. The name Portia, of course, is borrowed from The Merchant of Venice, but here Portia is the daughter of Brother Jeremiah, a bombastic Puritan (portrayed wonderfully by Adam Grabau) whose goal is to shut down the theaters due to their supposed immorality.
Shylock, the Jewish moneylender from Shakespeare's The Merchant of Venice, also appears. Here he is tasked with financing Nick Bottom's musical. Despite the unfortunate stereotype, Shylock is played with great sympathy by Robert Biederman, another Toby's favorite.
Nick's wife, Bea (whose name may be borrowed from the character Beatrice in Much Ado About Nothing), is played to perfection by Janine Sunday, who assumes the role of supportive wife and sister-in-law (singing beautifully "Right Hand Man").
Bea also dons men's clothes to secure a job and bring in income to her struggling playwright husband. (Crossdressing is, of course, a classic Shakespeare move, especially in the comedies. Ironically, it's not found in Much Ado.)
Shakespeare himself is represented by Justin Calhoun as arrogant and boorish in a depiction which is as humorous as it is unexpected.
Witty banter
In true Shakesperean fashion, the show abounds with both subplots and word-play.
Another Shakespearean aspect is its spare use of props and sets. Indeed, director Mark Minnick and scenic designer David Hopkins work magic in this regard through encouraging the audience members to use their imaginations. The few props present are quite evocative, such as the use of a skull on a desk to reference Hamlet's "poor Yorick."
The costumes of an Elizabethan bent, designed by Gregg Barnes, deserve high praise as well in creating a Shakespearean atmosphere on the Toby's stage.
The choreography, also by Minnick, is nothing short of brilliant (watch for the "dancing Omelettes!"), and the musical score is directed beautifully by Ross Scott Rawlings.
Shakespeare lovers will enjoy the Bard's quotes, which abound: "This blessed plot, this earth, this realm, this England" from Richard II; the song "To Thine Own Self Be True" from Polonius' advice to his son Laertes in Hamlet; "Shall I compare thee to a summer's day" from the Sonnets; and even the show's title, referencing Hamlet's perceptive observation that "something is rotten in the state of Denmark."
It is said of Shakespeare in Something Rotten that "he entertains, but he makes us think." The same may be said of Something Rotten (with its message of "To Thine Own Self Be True") and this outstanding production.
Something Rotten runs through March 19. Patrons should be cautioned that the play contains much risqué humor and may not be appropriate for young children.
Toby's is located at 5900 Symphony Woods Rd. in Columbia, Maryland. Advance reservations are required. Performances are Tuesday through Sunday nights, with matinees on Wednesday and Sunday.
Tickets are $74-$79 for adults and $57-$60 for children 12 and under. All tickets include an all-you-can-eat buffet (dinner or brunch). Patrons are also expected to tip their servers (who are, by the way, the actors), who bring coffee, alcoholic drinks and special desserts to tables.
Those 65 and over may attend any Tuesday or Wednesday performance for $62.90. Tickets may be purchased online at tobysdinnertheatre.com or by phone from the box office at (410) 730-8311.