Arts
She built more than a restaurant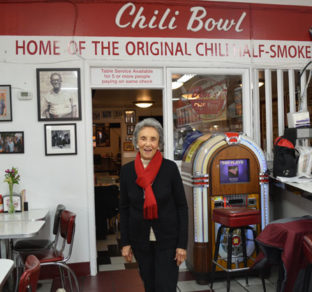 Virginia Ali and her late husband, Ben Ali, co-founded Ben's Chili Bowl on U Street NW in 1958. She has been actively involved in its operations for more than 60 years. The landmark restaurant remains a neighborhood hub, and has spawned two additional locations and two other restaurants around the metro area.
Photo by Greg Wagner
Every day, Virginia Rollins Ali, 85, stops by the landmark restaurant she and her late husband, Ben, opened on D.C.'s U Street in 1958.
She walks from table to table, greeting the regulars, tourists, athletes, politicians and movie stars who visit Ben's Chili Bowl for a half-smoke, chili cheese fries or a milkshake. Most of the time she gives them a hug.
"You'd think she's known them for 100 years, but they just met," Ali's daughter-in-law Vida said. "That's the spirit of the Bowl."
Over the past 60 years, Ali has done every kind of work at the restaurant, including cooking on the grill, hiring employees, organizing events, and greeting customers. She still actively works in that community relations role at the Bowl.
It was Ali's success in building a community that brought her to the attention of Seabury Resources for Aging. The nonprofit, which provides housing, care management, meals and more for older adults in the D.C. metro area, will be honoring Ali at its 95th anniversary celebration in May.
"We're honoring older adults who have made significant contributions to the community and continue to do so," said Kate Lewis, chief advancement officer at Seabury. "We encourage our people to stay engaged, and she certainly is that."
From farm to table
Ali grew up on a farm in rural Virginia and attended segregated schools.
Her family moved to Washington, D.C., in the 1950s, and she took a job as a commercial bank teller on the thriving U Street corridor, known then as Black Broadway.
She remembers the week Ben Ali, a Howard University student who grew up in Trinidad and Tobago, visited the bank three days in a row, gave her his phone number and told her to call him. "I thought he was cute, but that wasn't something I was going to do in late 1956."
Impatient for a response, he called her at work.
"He said, 'This is Ben Ali. Why didn't you call me?'" Ali remembered. "I said, 'Because I don't know you,' and he said, 'What would you like to know?'
"And then he told me about his entire life," she said. "He met my family, we made a date and the rest is history."
Let's grow this hot dog stand
The couple made history when, during their engagement, they signed a lease on a former silent movie theater-turned-pool hall on U Street. They invested $5,000 to open a hot dog restaurant called Ben's Chili Bowl.
"He wanted to be self-employed, and I thought it was a good idea," Ali said. It turned out to be a great idea. The family business thrived for decades on U Street, becoming a national institution featured in films and documentaries.
Stars like Duke Ellington, Miles Davis, Ella Fitzgerald, Barack Obama, Bill Cosby and countless other athletes and celebrities have had a meal at Ben's Chili Bowl.
"We've met a lot of people over the years, and we pride ourselves on giving everyone the warmth and welcome we give everyone else," Ali said. "It doesn't matter whether you're the president or anyone else. We are all just people."
Ali remembers meeting Martin Luther King Jr. in the late 1960s. His office was located on 14th and U, just a few blocks away.
"Whenever he was in town, he'd come to the Chili Bowl," Ali said. "We knew he was a great leader, a leader who preached nonviolence. We knew he was important."
After King's assassination in 1968, grief and rage sparked riots in most American cities, including D.C. While most of U Street burned, Ben's Chili Bowl remained open at the request of activist Stokely Carmichael.
To protect the restaurant, Ben Ali scrawled "Soul Brother" in soap on the front window. It worked; Ben's Chili Bowl survived.
"We were here during the bad times, during the riots, during the drug epidemic, during the subway construction that closed the street. But we managed to hold on with the help of the community," Ali said.
Giving back
With gratitude for the neighborhood in mind, Ali and her children formed the Ben's Chili Bowl Foundation in 2011 with the mission to give back to the community.
They invite D.C. schoolchildren to the restaurant for a free lunch and inspirational speech, a monthly event called "The Self-Empowerment Experience." So far, the foundation has given away more than $150,000 to 26 local groups.
Ben Ali died 10 years ago, after 51 years of marriage to Virginia, and she and their three grown children carry on his legacy.
A second Ben's Chili Bowl debuted in Nationals Park in 2008, and a third opened in Reagan National Airport. Today, two more restaurants are located in Arlington, Va., and on H St. NW in D.C.
Ali still enjoys greeting beloved customers at the original Ben's Chili Bowl on U Street.
Last month, she said, she walked out to the curb to greet a woman passing by in her car. "After we took pictures and hugged, she said, 'I had a headache before you came and now it's gone.' That really made me feel good."
The Board of Directors of Seabury Resources for Aging will present Ali with the 2019 Leadership in Aging Award at a fundraising gala scheduled for Wednesday, May 15, from 6 to 8:30 p.m. at The District of Columbia Bar, 901 4th St. NW, Washington, D.C. Tickets are available at seaburyresources.org/lia. For more information, email events@seaburyresources.org or call (202) 414-6313.
Ed. Note: A previous version of this story incorrectly stated that Ben Ali grew up in Puerto Rico. In fact, Ali grew up in San Juan, Trinidad and Tobago. We regret the error.