Arts
She's not one to shy from controversy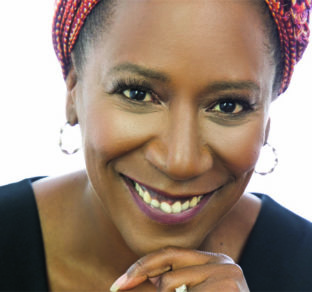 Christy Coleman, CEO of the newly expanded American Civil War Museum, reflects on the evolution of the museum — and Richmond itself. Under Coleman's direction, the museum, a merger of two of the city's institutions, will convey a more comprehensive history of the Civil War and its aftermath.
Photo by Kim Brundage Photography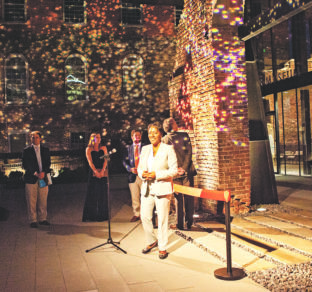 Christy Coleman hosted a May 2 gala at the new $25 million American Civil War Museum. It's located in and alongside the Tredegar Iron Works, built in 1834, where most of the Confederacy's wartime cannons were produced. The waterfront museum is expected to draw tourists to the Brown's Island area.
Photo by Penelope M. Carrington/The American Civil War Museum
Christy Coleman's office inside one of Richmond's riverfront Tredegar Iron Works buildings is typical of a chief executive officer. It's filled with framed photographs of family members, plaques with accolades, newspaper articles and books.
Three items on her bookcase stand out, however. One is a small copy of the U.S. Constitution from James Madison's plantation, Montpelier. Another is a gourd reminiscent of "the drinking gourd," an African-American freedom legend, and the third is a carved 18th-century mug from West Africa. All three pieces illustrate Coleman's unique connection to African-American history and the Civil War.
Coleman, 54, is the CEO of the newly expanded American Civil War Museum (ACWM), which celebrated its grand opening in Historic Tredegar on May 4. Last July, Time magazine named Coleman "one of 31 people changing the South."
Started as a slave re-enactor
Coleman began working at the Colonial Williamsburg Foundation in 1989 as a historical interpreter, where she portrayed a slave.
During her decade-long tenure at Colonial Williamsburg, Coleman rose from reenactor to director for public history, where she oversaw all of the foundation's historical interpreters. It was in that position, she said, "that I began to find my voice."
One of Coleman's first big events there was the annual market day, a reenactment of a Colonial Virginia auction of items such as cattle and land.
When a colleague pointed out that a historical market would have sold slaves, too, Coleman received management's approval to stage a live slave auction — one in which she would be one of four African Americans sold to the highest bidder from the market's auction block.
The half-hour event attracted international media and a large crowd of onlookers. Coleman remembers the hush that fell over the crowd when the auction began — and the collective sigh from everyone when it ended. "It was wrenchingly emotional," she said.
She left Colonial Williamsburg in 1999 to head the Charles H. Wright Museum of African American History in Detroit.
After nearly a decade there, Coleman heard about an opening at the American Civil War Center, a small museum back in Virginia on the banks of the James River. In 2008, she moved to Richmond to become its president and chief operating officer.
Two museums combine
By 2013, the American Civil War Center and the Museum of the Confederacy (encompassing the White House of the Confederacy), situated two blocks north of the Virginia State Capitol, had become part of the United States' larger culture wars.
There were tense relationships between the two institutions across Confederate-Union and racial lines, with supporters of each museum standing firmly — both in the media and behind closed doors — for their individual interpretations of 19th-century American history.
Throughout Richmond, tempers flared, fueled by a Confederate legacy group that launched a social-media campaign on behalf of the Museum of the Confederacy.
Cooler heads prevailed, however, and in November 2013, the American Civil War Center and the Museum of the Confederacy announced they would merge. Two months later, they unveiled a new name: The American Civil War Museum, with the tagline "Confederacy, Union, Freedom."
No sugarcoated history
Last year, as co-chair of the Monument Avenue Commission dealing with the issue of what to do with Richmond's Confederate monuments, Coleman was involved in many public meetings with the people of Richmond — black and white, old and young, male and female, new and longtime residents.
The 10-person panel's report last July recommended removing a statue of Confederate President Jefferson Davis but leaving in place four others.
A talented negotiator, Coleman has a unique skillset, said S. Waite Rawls, III, an investment banker who served as president and CEO of the Museum of the Confederacy for almost a decade.
Rawls, who now chairs the ACWM's fundraising arm, said he was impressed when he met Coleman during the 2008 search for a new leader of the Civil War Center.
"She had the experience of dealing with controversial issues and had met them head-on, not trying to sugarcoat history," Rawls said. "Once I met her, I saw why she'd been so successful. She's confident, smart and makes a good impression."
Rawls and Civil War scholar Edward L. Ayers, former president of the University of Richmond, were among the many people who worked with Coleman to open the expanded American Civil War Museum on the riverfront earlier this month. Ayers, who sat on the boards of both institutions before the merger, chaired the board of trustees for the new museum for the past six years.
"Christy is a rare combination: a driven visionary leader with a quick and deep sense of humor," he said in an email. She "confronts challenges of every sort with a deep and empathetic understanding and with a determination to make the best out of every situation. She is inspiring to work with, and it's wonderful to see her hard work come to fruition this spring."
Debunking myths
When asked about the role of the American Civil War Museum in Virginia's current racial climate, Coleman said, "History has never been for the dead.
"A lot of people talk about truth and reconciliation, but one of the things most clear is that you can't reconcile anything if you're not being truthful. Once you have the facts [and] become more informed, it's easier."
Examples of myths regarding Civil War history include the belief that slavery benefitted slaves as well as masters, and that it was a benign institution.
Coleman has spoken to white descendants of slaveowners who say their family documents indicate a close, loving relationship between the races. Her response is, "What was your reaction to 9/11? Do you think that was everyone's response? The only way to tell the story accurately is to see it from multiple points of view."
Another myth about slavery, according to Coleman, is that African servitude in the United States was simply an extension of a concept and practice that has been part of civilization from its beginning.
"Not true," she said. "This was the largest forced migration in human history. It was much larger than the master-slave relationship because an entire infrastructure developed around it. Slaves became part of the monetary and economic system as well as cultural and legal institutions."
The expanded museum's new exhibits strive to tell the whole story, Coleman said. "The former American Civil War Center dealt with the North, the South and African Americans. There was nothing about Native Americans, enslaved blacks or immigrants — all of whom our expanded museum covers."
Through thousands of letters, images, maps and other documents, Coleman hopes to present a comprehensive picture of the Civil War and its times. The expanded museum will be "much more inclusive, much more of an emotional experience for visitors," Coleman said.
"Museums can be active without being activist," she said. "With the many different pieces of cultural memory, we can help our community navigate controversy. The problem is that for so long, museums have helped perpetuate old attitudes by sweeping controversy under the rug."
Coleman credits Colonial Williamsburg with giving her an appreciation — "even an expectation" — of risk-taking. "Employees have to know an institution has [their] back, from the board of directors to supervisors. I've tried to foster that attitude in staff development here," she said.
Coleman's success is due to her "insatiable curiosity," she said. In her role as museum director, she never shies away from uncomfortable truths. "The human condition is fraught with darkness," she said, "but you can learn something from everything."
If you go
The American Civil War Museum, online at acwm.org, comprises three locations in Richmond and Appomattox:
Historic Tredegar, 500 Tredegar St., Richmond, Va. 23219, (804) 649-1861, ext. 100
White House of the Confederacy, 1201 E. Clay St., Richmond, Va. 23219, (804) 649-1861, ext. 100
American Civil War Museum-Appomattox, 159 Horseshoe Rd., Appomattox, Va. 24522, (804) 649-1861, ext. 300
All three location are open daily from 10 a.m. to 5 p.m. Ticket prices at each site start at $12 adults; $10 seniors, retired military, teachers and students; and $6 youth (ages 6-17). The museum offers discounted admissions to more than one location through its "Experience Packages."