Arts
Stand-up meets acting at Theater J show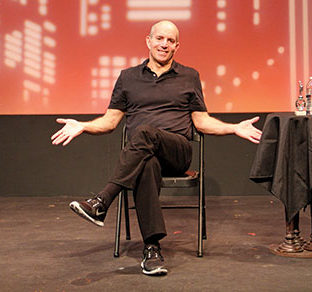 Stand-up comic Brad Zimmerman stars in an autobiographical one-man show, "My Son the Waiter: A Jewish Tragedy," running at Theatre J in downtown D.C. through August 21.
Photo courtesy of mysonthewaiter.com
Brad Zimmerman describes himself as being a late bloomer. With "My Son the Waiter: A Jewish Tragedy," however, he appears to have at last come into his own: His one-man show is now on national tour, and visitors to Theater J at the Edlavitch Jewish Community Center of Washington, D.C., can enjoy his autobiographical performance, which runs through August 21.
In his 81-minute show, Zimmerman describes himself as being the scion of a Jewish family. While initially an apathetic student, in college he discovered an interest in the dramatic arts, leading him to embark on an acting career in New York City.
Success, however, was quite slow to arrive, leading him to spend the following 29 years working as a waiter to make ends meet. Hence the title of the show — although he notes wryly that his mother (a running character in his monologue) once commented that his decades-long position might render "A Jewish Mother's Tragedy" a better title for the production.
Audience interaction, too
The show is an interesting hybrid of styles. There are strong elements of stand-up comedy and audience interaction, especially at the beginning of the performance, as well as aspects of storytelling and dramatic, if comedic, spoken-word performance.
Zimmerman's approach is sometimes self-deprecating, perhaps slightly reminiscent of Woody Allen, though he incorporates elements of the more piquant style of George Carlin, with whom Zimmerman fondly recalls working. Perhaps Zimmerman has a bit of the latter's manner when he says, "I like to use contempt constructively."
His timing and pauses are perfect, reminding one both of Carlin and also of Joan Rivers, another famous comedian with whom Zimmerman worked.
Yet Zimmerman notes that he is not so much a comic, but rather an actor who does stand-up comedy. This distinction is demonstrated by his use of the Theater J space as a stage, complete with props, occasional lighting effects, and his bringing in audience members as other "characters" in his performance.
Nonetheless, his constant ad-libs seem more in the arena of stand-up comedy than in the world of rehearsed plays.
Appeals to broad audience
While reflecting upon his varied career, Zimmerman recounts a gig in a non-Jewish community in which the management was concerned he would "just tell Jewish jokes," and that they would be lost on most of the audience.
But a strong point of his show is its appeal to a broad spectrum of the audience. While many of the stories and jokes involve Jewish characters and references and, as such, will have a strong appeal to Jewish audiences, his stories are universal — dealing with topics such as school, health, family, relationships and dating. Zimmerman's stories of blind dates, and finding excuses to get out of them, are especially amusing.
Zimmerman delivers an unusual and engaging performance. Of course, there is occasional profanity and a few of the jokes are off-color, so this should be kept in mind before bringing children to this event.
There is also the risk that, based on Zimmerman's anecdotes and prowess as a stage actor and comedian, young ones may, inspired by his example, run off to pursue an acting or comedy career in New York City, only to find themselves waiting tables for years!
Book complements performance
After the show, Zimmerman sells a small but interesting book that he penned called Atta Boy Zimmy. The book further illuminates his life, and suggests that the stage show only offers a small glimpse of his persona.
The book, for instance, contains a glamorous photo of his mother, Barbara Zimmerman (née Marsh), as an attractive young woman. She herself tried a turn in show business, attending New York University with the goal of becoming an actress.
I also learned from a conversation with Zimmerman that his choice of Rollins College in Florida was due to an athletic scholarship. This is alluded to in his act, but the persona he exudes in the show is more the klutz than sportsman.
In fact, the persona Zimmerman projects in the show and the book might be overly modest, as the real Brad Zimmerman may have had more personal and professional success (such as his opening for Carlin and Rivers) than the show might suggest.
"My Son the Waiter" runs at EDCJCC's Goldman Theater, 1529 16th St., NW, Washington, D.C., through August 21. Performances are Thursdays and Sundays at 2 and 7:30 p.m.; Saturdays at 2 and 8 p.m. Tickets are $60 plus a $5 service fee. Tickets available at MySonTheWaiter.com or via the box office at (202) 777-3210.