Arts
Still smokin' after all these years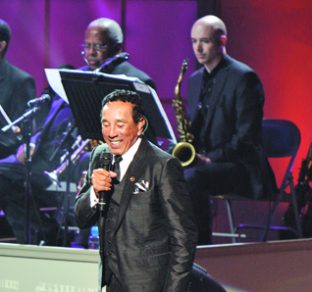 Smokey Robinson performs at DAR Constitution Hall during the ceremony where he was awarded the Library of Congress Gershwin Prize for Popular Song in November. Robinson was celebrated for over 50 years of writing, singing and producing music, from his early work with the Miracles to his numerous solo albums.
Photo by Shawn Miller (Library of Congress)
When William "Smokey" Robinson, Jr. was a young boy, his godfather Claude nicknamed him "Smokey Joe" since they both loved cowboy films. In his early teens, he shortened it to "Smokey." Though his dreams of the Wild West had faded, he still loved the nickname.
Now 76, the singer, songwriter and producer was recently in Washington, D.C. to receive the Library of Congress Gershwin Prize for Popular Music. According to the Library of Congress, the prize "celebrates the work of an artist whose career reflects lifetime achievement in promoting song as a vehicle of musical expression and cultural understanding."
Getting this award is "one of the proudest achievements of my life," he told the Beacon. "I grew up in a very musical home where the Gershwins' music was played all the time. To think that, as a songwriter, I could be mentioned in the same breath as them is an amazing honor for me."
Over the years, Robinson has enjoyed an extensive and varied career in music and management. The public still remembers him for his contributions to Motown, his time as front man for the rhythm-and-blues group the Miracles, his subsequent solo career, and his prolific songwriting. In fact, many consider him to be one of the greatest songwriters of our time.
Writing songs is so personal for the artist that he often has a hard time picking a favorite. "Selecting a favorite song is like asking me to choose one of my kids as a favorite. I love all of them equally," he joked.
In 1987, Robinson was inducted into the Rock and Roll Hall of Fame for his impact on music, and since then has been given many other accolades — ranging from placement in the Songwriter's Hall of Fame, to numerous nominations and Grammys wins, to honorary doctorates in music from both Howard University and Berklee College of Music.
"I live a richly rewarded life," he said. "A life I could have never imagined as a child."
Early life and career
Robinson had humble beginnings. He was born and grew up in a poor neighborhood in Detroit, Mich. At age 10, his mother passed away, so his sister Geraldine looked after him and raised him alongside her 10 children. Their family was very close.
Even as a child, he always had a love for music, listening to Nolan Strong & the Diablos and Billy Ward and his Dominos. Their dynamic inspired him to form a doo-wop group with his friends Ronald White and Pete Moore called the Five Chimes.
Two years later, Bobby Rogers joined the Five Chimes, and they began experimenting with rhythm and blues as their musical focus. They also changed their name to the Matadors. Another group member, Emerson "Sonny" Rogers, joined the army, and his sister Geraldine became his replacement.
In 1957, the Miracles met songwriter and budding impresario Berry Gordy. Robinson presented him with a notebook filled with some songs he wrote in high school. Impressed with the group's talent and Robinson's songwriting ambition, Gordy agreed to help them. It was the beginning of a successful collaboration.
It's only fitting that the first single the Miracles released was called "Got a Job" — a musical response to the Silhouettes' hit single "Get a Job." Robinson dropped out of school when the group released its first record. He also fell in love with and married Claudette Rogers (Bobby's cousin) in 1959.
The Miracles did not achieve instant stardom. "Got a Job" came in at 93 on the Billboard Top 100 — enough to make a debut, but not enough to break through onto the music scene.
Gordy hadn't earned much from his distribution of the group's single, so Robinson convinced him to form his own label. He opened Tamla Records, which soon merged with Motown — the legendary and iconic record company we know today. The Miracles became one of Motown's first signed groups.
The group's success began to pick up, but after a dismal reception at the Apollo Theater in 1959, Robinson knew something was missing. He recruited guitarist Marv Tarplin, who had been on tour with the teenage Supremes (then the Primettes). Tarplin turned out to be the missing element, and the group's classic lineup was born.
Songwriting success
A year after adding Tarplin, the Miracles finally exploded onto the music scene with the hit single "Shop Around." The song's catchy lyrics and pop sound appealed to mainstream audiences, and became the Miracles' and Motown's first million-seller record. It remained at number 1 on the Billboard R&B singles chart for eight consecutive weeks.
Fun fact: Robinson told The Beacon that "Shop Around" "took about 30 minutes" to compose.
When it comes to songwriting technique, Robinson explained, "I don't have a process. I know some songwriters need to retreat to the mountains or something like that to write songs, but songwriting for me is an everyday process.
"I could hear a phrase or see something, and be inspired to write a song. [Although] some songs take longer to write than others," he added.
Between 1960 and 1970, Robinson sang, wrote and produced 26 top-40 hits with the Miracles — including top-10 features like "You've Really Got a Hold on Me" and "Mickey's Monkey."
He also did a lot of work behind the scenes for Motown and its other artists. His "everyday" style of songwriting led to hits for other artists as well, such as his classics "My Guy" for Mary Wells, and "The Way You Do the Things You Do" and "Ain't That Peculiar" for Marvin Gaye.
Robinson also wrote and produced the megahit song "My Girl" for the Temptations. The lyrics were inspired by his then-wife Claudette. In choosing David Ruffin, a background singer for the Temptations, for the lead on this song, Robinson also launched Ruffin to the forefront of that group.
In 1962, Robinson became vice president of Motown Records, a job that came with increasingly heavy responsibilities. By 1968, when his first son Berry was born, he was ready to retire from touring. He only stayed with the Miracles a few more years after the success of his hit "Tears of a Clown," and officially left the group in 1972. The Miracles remained together and kept touring.
For a time, Robinson focused on his executive position at Motown, but soon realized he missed music and recording, so he returned to the studio as a solo artist. His solo material departed from the upbeat stylings of his time with the Miracles, and it brought out a more mellow, thoughtful sound.
By the 1980s, Robinson was rounding his third decade in the music business and was still well-regarded by critics. He even won his first Grammy for the single "Just to See Her."
But coping with pressure and fame wasn't always easy for the star. In the mid-'80s, he was crippled by an addition to cocaine, which he revealed in his 1989 autobiography Smokey: Inside My Life.
He credits an intervention by his pastor with helping him overcome his drug use. Robinson also had several extramarital affairs during his marriage to Claudette, which led to their separation and subsequent divorce in 1986.
In the '90s, Robinson's contract with Motown Record expired, and he moved to SBK Records for the album Double Good Everything (1991). Motown had been sold to MCA, and Robinson had already given up his executive position to focus on music.
Since then, he's released Intimate (1999) — which represented a temporary re-signing to Motown, a gospel album Food for the Soul (2003), and standard albums Timeless Love (2006), Time Flies When You're Having Fun (2009), and Now and Then (2010).
His most recent album, Smokey & Friends (2014), is a compilation of duets featuring Elton John, Linda Ronstadt and James Taylor. It has become his second most successful album.
Adventurous spirit
Nowadays, Robinson lets his heart take him wherever it wants. Every day, he practices Transcendental Meditation (TM) — a mantra-based meditation — and lives an active lifestyle.
He and his wife Frances enjoy being outdoors, and are self-proclaimed "sun worshipers." The couple met through mutual friends, and will soon celebrate their 15th anniversary.
In addition to being his wife, Frances is his business partner in Robinson's newest venture — Skinphonic, a skincare brand for people with pigmented skin. They founded the line after having trouble finding anything on the market aimed specifically at pigmented skin. Robinson's outdoorsy life had unfortunately taken a toll on his skin.
"We knew that there are biological differences in pigmented skin," he explained. "We also knew that the skincare industry was largely ignoring this. This is why we set out to specifically formulate solutions to the unique biology of pigmented skin."
The brand currently has two lines, aptly-named Get Ready ('Cause Here I Come), for men's skin, and My Girl. Both lines focus on hydration and protection against sun damage. You can find out more at www.skinphonic.com or call 1-866-280-3714.
In 2017, Robinson also plans on reviving his "Soul in the Bowl" food products. The popular Gumbo, Red Beans and Rice product hit shelves in 2005, and will be back due to "public demand," he said.
In the meantime, he still continues to be celebrated for his lifetime of achievement and contributions to music. His career helped popularize soul music, and his continued performances never seem to falter in quality.
Yet despite all his awards and accomplishments, Robinson still makes time for the little things. The surprising thing he thinks no one knows? "I make ice cream sodas at night," he revealed.
The awards ceremony for the Gershwin Prize will air on PBS on Feb. 10. In addition to a variety of performers paying musical tribute to Robinson, Berry Gordy also makes a special appearance.