Arts
Stories well-told by television celebrities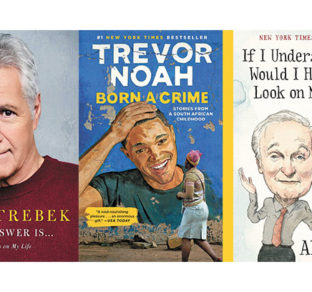 The Bibliophile
Enjoy the perspectives of each of these articulate entertainers as they master the written word as authors.
The Answer Is…: Reflections on My Life, by Alex Trebek, 304 pages, Simon & Schuster hardcover, 2020
Alex Trebek, the host of TV game show "Jeopardy!" beginning in 1984, faces his own mortality in his 80th year: He is under treatment for late-stage pancreatic cancer.
He has written a joyful memoir, rich in insights with myriad details about his personal life and behind-the-scenes stories about his long-running quiz show. Trebek wishes to impart to his fans the philosophy that has guided his journey.
Raised in Canada, Trebek is the son of a Ukrainian immigrant and a French-speaking Ontarian mother who separated when he was in prep school. Trebek confronts the world, grateful to those who mentored him. He clings deeply to the special bond that his father's unconditional love provided. Trebek modestly credits luck and good timing for his success in addition to effort, tenacity and hard work.
The Answer Is… reprises a remarkable life with humor, humility and humanity as we follow Trebek as he ascends to stardom without succumbing to arrogance or an inflated sense of himself.
Born a Crime: Stories from a South African Childhood, by Trevor Noah, 304 pages, Spiegel & Grau paperback, 2019
The biracial son of a single, black mother growing up in apartheid South Africa is the life story told with clarity and verve by comedian Trevor Noah, who succeeded Jon Stewart in 2015 as host of "The Daily Show" on Comedy Central.
Remarkably, Noah is able to transcend the bitterness and horror of his youth with a mature reasoning beyond his years. The choices he makes and the violence and hate he encounters along the way make for fascinating reading.
Born a Crime is not a book about show business. It's about coming of age in an unjust, cruel world. Noah examines the forces that shaped it and the possibilities to conquer them in order to open a window of opportunity to a better life.
He writes from the perspective of an observer, not a political philosopher. His words ring true. Funny and moving, terrifying and uplifting in turn, the book is a tour de force of emotions.
If I Understood You, Would I Have This Look on My Face?: My Adventures in the Art and Science of Relating and Communicating, by Alan Alda, 240 pages, Random House Trade Paperbacks, 2018
The accomplished octogenarian actor Alan Alda is actively involved in helping scientists communicate with the public. To that end, he has founded the Alan Alda Center for Communicating Science at the State University of New York at Stony Brook.
For 14 years, he served as host of "Scientific American Frontiers" on PBS. Alda's prolific career has encompassed roles on the stage, in movies and on television. His great skill as an actor has been manifest in his portrayal of such wide-ranging characters as Hawkeye Pierce in the popular series "M*A*S*H" and the contrasting role of Republican Senator Arnold Vinick in "The West Wing."
If I Understood You, Would I Have This Look on My Face? is Alda's story of how he became involved in the scientific study of communication, its importance to him, and why readers might want to learn the tactics he describes in his book.
Mastering the art of emotional connection with fellow cast members is a handy tool in an actors' bag of tricks. It can also be useful to anyone wanting to gain better understanding of, and greater empathy with, others.
Alda describes improvisation and mirroring techniques. He relates tales of his life on stage and personal stories with warmth and charm. Alda's story about explaining science to his grandson is priceless.
Readers may very well find themselves learning how to listen better, keep an open mind and express themselves in a more cogent manner. Older adults especially have the time to practice the ideas and implement them as they deal with the younger generation.
Alda's good humor is evident throughout the book. Turning the pages is like listening to a friend in erudite conversation.