Arts
Structure in the wintertime garden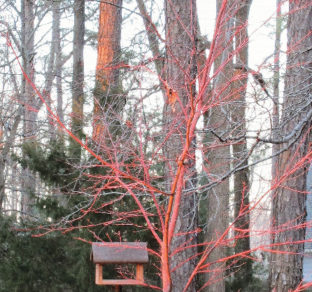 Keep color in your yard this season with a coral bark Japanese maple.
Photo by Lela Martin
The leaves have fallen, nothing is blooming, the garden looks forlorn. Can you stand three more months of this?
If not, how can you create beauty in the winter garden?
Structure provides the interest you need now as well as the framework for all seasons. Of course, structure can mean literal structures: pergolas, potting sheds, garden gates, stacked stone walls.
However, structure can also be provided by the plants you choose. Here are some suggestions for your own yard.
Trees
Trees provide the most dramatic structure in our yards. When planting new trees, consider how they will define your space in winter. Use existing trees in combination with shrubs and perennials to create visual interest.
Trees range in mature height from eight feet for a Japanese maple to a hundred feet for an oak. Both evergreens and deciduous trees can deliver in winter.
Evergreens come in a variety of shapes, colors, sizes and textures. Weeping conifers are especially arresting.
The branching structure, decorative bark and persistent fruits of deciduous trees are more noticeable when they are leafless. For example:
Known for their spring blossoms, crabapples produce fruits that last into the winter.
The Washington hawthorn has red berries and sharp thorns. Birches provide interesting white, peeling bark.
A mature crepe myrtle's shedding bark leaves the trunk with attractive coloration.
Similarly, the paperbark maple's bark peels to cinnamon color in autumn.
The bark of the coral bark Japanese maple is a brilliant color.
If you have enough space, the branching habit and exfoliating bark of an American sycamore is appealing.
Smaller in stature, our native redbud has branching that can provide interest as well.
Witch hazel, corkscrew willows and curly twig willows are specimen trees with gorgeous twisted branches.
Shrubs
Shrubs work with trees to add the bones to your garden. Consider these varieties:
A shrub with interesting branching structure is Harry Lauder's walking stick. Its gnarled branches are charming not only in the garden, but in floral arrangements as well.
The bark of red twig and yellow twig dogwoods, native shrubs, looks attractive on its own, but especially as an accent with evergreens.
Berries provide bursts of color and a food source for birds and other wildlife. Native shrubs with berries into the winter include winterberry, red chokeberry and wintergreen.
Varieties of mahonia (a.k.a. Oregon grape) can provide evergreen structure as well as interesting drupes.
Favorites especially in winter, hollies range from small bushes to trees up to 80 feet high; there is a type of holly for every winter landscape.
Firethorn or pyracantha is an evergreen or semi-evergreen that sports thorns and orange or yellow small berries until the birds eat them all.
Hydrangeas produce great dried flower heads, which can be left on the shrub for their interesting shape until the appropriate pruning time.
The genus Euonymus has many ornamental plants both deciduous and evergreen, some of which feature mottled bark and attractive showy or winged fruits.
Also consider low-growing conifers such as junipers, cypress, mugo pine and arborvitae for their shapes and colors.
Perennials and grasses
Perennials are typically smaller and less expensive than trees and shrubs. Although some perennials disappear after the first frost, many can add winter interest.
Large grasses such as miscanthus provide structure. With its upright form and flower spikes, miscanthus stands out all winter.
Yucca can also be a focal point, especially after a snowfall.
Look for perennials with striking seed heads and pods. Since seed heads provide food and shelter for wildlife and birds, don't cut the seed heads of rudbeckia, sedum or echinacea until spring.
Roses don't usually come to mind in winter; however, rose hips, the accessory fruit of the rose plant, show up when the flowers are gone. The best rose hips are produced by species roses, shrub roses and ramblers; Rosa rugosa has iconic hips. Rose hips can grow in clusters, in small groups of three to four, or as a large single hip. Hip-bearing roses should not be pruned until January or until the hips have withered.
If you plan for your garden to be attractive now, chances are that its structure will provide the framework for year-round beauty.
Lela Martin is a Master Gardener with the Chesterfield County office of the Virginia Cooperative Extension.