Arts
Surgeon lost sight and became a sculptor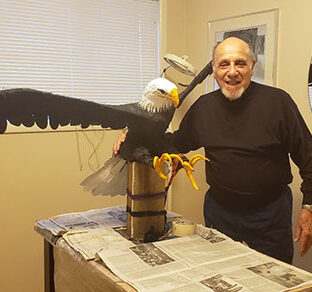 He went nearly blind, then started creating art.
Photo courtesy of Kessler family
Dr. Matthew Kessler was working as a dental surgeon and teaching at two D.C.-area universities when he noticed changes in his vision.
"It came on pretty quickly," Kessler, now 88, said. "It looked like someone put Vaseline on everything."
Diagnosed with macular degeneration about 25 years ago, which blurred his central vision, Kessler had no choice but to retire. Although clear eyesight never returned, the Silver Spring doctor has reinvented himself as a sculptor.
Kessler was inspired by the famed blind sculptor Michael Naranjo, about whom he learned at his appointments with doctors at the Veterans Administration. Naranjo was blinded by a grenade but went on to make a splash in the art world.
"You'd be amazed to see what a person like that can do. So, I figured I may not have his talent, but I can see better than he can," Kessler said.
In 1998, Kessler signed up for an introduction to art class and a sculpture class at Montgomery College's Takoma Park campus. Despite his vision loss, he learned as much as he could.
"I was always very curious and imaginative and very, very persistent, like a dog with a bone," he said.
Grew up poor in Brooklyn
Kessler grew up in the 1930s and 40s in the Brownsville neighborhood of Brooklyn, New York. "It was a tough place to be, and I was very lucky to be able to overcome a lot," he said.
The son of working-class parents ("My father made big investments. One was in food; the other was in rent," he joked), Kessler won full scholarships to college and dental school. At the beginning of his career as a periodontist, he worked in the Pentagon's medical clinic.
His past work ethic persists today — but instead of maintaining a dental practice, he creates art.
Making art "is like telling a story," Kessler said. For instance, he created a sculpture of two women side-by-side that describes the Biblical story of Ruth and Naomi. "Where you go, I will go, and where you stay, I will stay," Ruth tells Naomi after the loss of her husband and sons.
That loyalty is present in Kessler's family as well. His adult children remain close to him after the death of their mother in 1991.
Kessler said he's motivated to create art for his children and grandchildren. "I'm not against money, but this is better than money," he said. "I want to leave behind myself, not money, for them."
During the pandemic, Kessler kept up his artwork, thanks to an art historian and friend, Carol Hinds, who provided art therapy lessons during the lockdowns. He kept busy in the home studio that his adult daughter built for him.
Almost every room of Kessler's ranch house — and even his yard — contain his sculptures and wall art. A concrete, life-sized sculpture of two dancers stands in his front yard. One is a likeness of his grown son, who is a professional dancer.
Kessler had a retrospective show at the Jewish Community Center in Rockville about 10 years ago. This year, he hopes to participate in another local art show to display his works.
With or without recognition, though, he plans to continue sculpting. "I want to keep doing it as long as I can," he said.
In addition to his art, Kessler has written a children's book and a fictional autobiography. He hopes his story will inspire other people to reinvent themselves — or to simply persist.
"There are three people who think I'm the greatest sculptor in the world: my grandchildren," Kessler said.
"I try to let my grandchildren know that you've got to keep on trucking. I tell them that 'you can do whatever you want.'
"Look at me and realize, if I can do what I do, what could you accomplish?"