Arts
Sykesville couple design an artistic life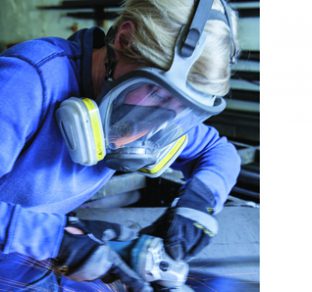 Sparks fly as Julie Girardini works to shape metal into one of the artworks she creates either on her own or with her fellow artist (and husband) Ken. The physical work involved has led the couple to start strength training to keep up with the demands of their craft.
Photo courtesy of Julie Giardini
Julie and Ken Girardini are married not only to each other, but to their art as well. The husband and wife design team have been creating contemporary metalwork pieces since 1990, working out of a studio on their 3½ -acre property in Sykesville.
The Girardinis met when both were living in Colorado. They've been married for 30 years, and designing and crafting together for 24.
Ken, who is 58, has been a painter since he was a teen, and Julie, 53, started out as a potter. Before becoming metalsmiths, they also worked in a variety of other media, and still do.
"There's really no medium we won't try," said Ken, a former officer in the U.S. Air Force. "We don't like to be pigeon-holed."
After moving to Maryland, where Ken worked at NASA Goddard Space Flight Center, he and Julie were introduced to the American Craft Council's Craft Show in Baltimore. "We were blown away," said Ken. "We realized that people could actually make a living by making things with their hands."
Eight years and many long nights and weekends later, Ken left his job with Goddard, and he and Julie began a full-time career in fine craft. Together they have built a business that creates objects ranging from functional craft to sculpture, painting and photography.
Craft shows and commissions
Despite their proficiency in a variety of media, it's contemporary metalwork that is their longstanding passion. Self-taught, the Girardinis work primarily with cold rolled steel, adding elements of brass, copper and stainless steel to their designs.
Their work will be on display, and for sale, at the ACC Craft Show from February 24 to 26 at the Baltimore Convention Center. In addition, their pieces are available at Zenith Gallery in Washington, D.C., through the Artful Home catalog and also by commission.
It is their commission work that they find the most interesting. "We enjoy creating just the right piece for a client," they said. "We like the interaction and the input."
And since they work so closely with their clients, the couple usually leaves the project with newfound friends.
Julie sees her art as way to heighten awareness about social concerns, using imagery to evoke emotion.
"I am obligated to observe the world around me and make some sense of it through visual means," she said, adding that she is influenced by the journeys we take in our lives, traveling from one phase of life to another.
"Sometimes it involves a physical move. Other times it is an emotional shift. How do we make it feel like home? When do we know we are ready to move on? Do we get stuck on concepts of safety and security, or do we honor the opportunity for growth?"
Julie said she symbolizes these journeys through her use of iconic forms such as boats, nests and houses. "For me these forms hold our histories of where we have been and where we are going."
Her primary use of steel gives permanence to these structures, Julie explained, but she "pushes the boundaries" by mixing in elements of glass, wire, paper and encaustic (hot wax painting) to bring about "a feeling of fragility and the ethereal nature of life."
Metal tests their mettle
While it all sounds grand, the life of an artist has its ups and downs, the Girardinis say. "We work an awful lot," said Ken.
They have found as they get older that the physical demands of working with metal have become more challenging. As a result, they have begun strength training to allow them to continue the work they love. "Otherwise, we could wind up making something lightweight, like jewelry," Ken laughed.
The upside of working independently is a flexible schedule, allowing them to pursue their love of travel and spend time with their many friends.
The couple is also grateful that after more than two decades of being full-time independent artists, they have made a name for themselves. "We're not rich but we're making a living," said Julie.
They have exhibited in many of the finest juried craft shows across the country. Ken's work is in many private collections as well as the Embassy of the United States in Canada. He has received four State of Maryland Individual Artist Awards spanning three different categories.
Julie's work can also be found in such venues as the National Gallery of Art, Frank Lloyd Wright's Fallingwater, and the Art Institute of Chicago.
It was a chance meeting that brought the two together when Julie attended a pottery class on the wrong night. But that happy "accident" has led to both personal and professional success for this couple who chose both each other and to make art their life.
The American Craft Council's annual Craft Show will be held at the Convention Center, 1 West Pratt Street, on February 24 from 10:00 a.m. to 8:00 p.m., February 25 from 10 a.m. to 6 p.m., and February 26 from 11 a.m. to 5 p.m. One-day pass is $14; three-day pass, $34. For more information, visit www.craftcouncil.org.
For more information on Julie and Ken Girardini, visit www.girardinifineart.com.