Arts
Teacher immerses students in Broadway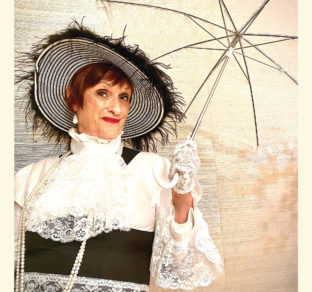 With costumes and a theatrical flair, Pikesville resident Ellen Katz teaches in-person and virtual classes about the back stories of Broadway musicals and singers such as Barbra Streisand, Bette Midler and Carole King. Her popular classes are offered through the Myerberg Senior Center, Towson University, CCBC and other venues.
Photo courtesy of Ellen Katz
Dressing up as a Victorian grand dame or a buttoned-up founding father is part of the job for Ellen Katz, a singer, performer and educator.
Katz, 76, a popular instructor at the Edward A. Myerberg Senior Center in Baltimore and other venues, gives her students a front-row seat and deep immersion into the history of the characters and plays that she teaches.
"I love to teach, and I know how much people need the escape," said Katz, who calls herself an "edutainer."
When the pandemic hit last year, Katz began teaching her classes on Zoom, like many instructors. She has thrived in that format, teaching as many as 150 virtual classes in 15 months.
Lively and passionate, Katz presents theatrical experiences rather than lectures, all from her "Broadway Zoom Room," as she describes it.
Her home office has a colorful backdrop of Times Square. When she appears on camera in full costume and makeup, students feel as if they're entering the larger-than-life world of Broadway.
Katz's love of theater was inspired by her parents, she said, "especially my father." She keeps a picture of her father on the wall in her Zoom theater.
"He loved singing, and he was so young in his heart," she said. "He was my Peter Pan, and I was his Tinker Bell. I was always inspired by his music."
Longtime, loyal students
Now Katz inspires hundreds of others to appreciate show tunes.
"[Ellen's] classes are very popular, and the attendees always rave about what a fantastic way it is to start the weekend on Fridays," said Niki Barr, director of the Myerberg Center. "Ellen makes the presentations very interactive and keeps people engaged. Everyone leaves her class smiling."
Katz has "quite a following," said Herta Baitch, a Pikesville resident who has taken many classes with Katz over the past eight years, both at the Myerberg and at a senior center in Naples, Florida, where Katz taught a class on Fiddler on the Roof.
"She does a tremendous amount of research," Baitch said. "She not only gives you the story but…gives the background to the Broadway show and the directors, lyricists and others."
Katz enjoys bringing the joy of theater to her students. She was thrilled to teach a recent class (in full costume, of course) about the award-winning Broadway show Hamilton. "I want to show the impact of these musicals. What is their legacy in [our] culture?"
For Baitch, Katz's focus on the impact of Hamilton resonated. She recalled Katz's passion for the musical and the teacher's insistence that "this show will change show business."
Courses coming up
This month Katz will be teaching "The Films and Iconic Career of Barbra Streisand" through the Community College of Baltimore County, which will host her classes on Hairspray and West Side Story in the fall. In addition, she's scheduled to teach classes at Towson University and Har Sinai and Oheb Shalom Congregations.
"Ellen loves what she does, and it shows," Baitch said. "Everyone [can't] wait for her next series."
In the fall, Katz also plans to continue teaching her Myerberg classes on Zoom.
"Students are currently interested in keeping the classes virtual. They enjoy the flexibility of signing on at the last minute and not having to travel," Barr said. Also, if students miss a class, sessions are recorded and available for watching later.
This September Katz will teach "Broadway Jazz: Broadway during the Roaring Twenties" on Fridays at 10:30 a.m. through the Myerberg Senior Center.
When she describes Al Jolson, Fred and Adele Astaire and the work of George and Ira Gershwin, don't be surprised if she's dressed as a flapper.
To contact Katz about her teaching schedule, visit ellenkatzbroadway.com, email ellenkatzmusic@gmail.com or call (443) 622-7490.