Arts
Teacher writes about city kids' resilience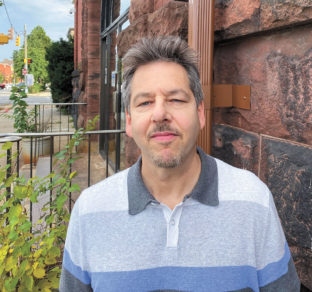 High school teacher and writer Adam Schwartz has taught for 16 years at Career Academy in Baltimore City. This month, he begins a book tour for his short story collection The Rest of the World, inspired by the experiences of his teenage students.
Photo by Maks Schwartz
Adam Schwartz, 55, grew up in Washington, D.C.'s Friendship Heights, but he has taught in Baltimore's city schools for the past 22 years.
The "resilient kids" he taught became the basis for his new book, The Rest of the World — his debut collection of short stories, several of which have already won prizes after their publication in literary journals.
All eight stories are set in Baltimore, and were "inspired by getting to know the teens in my classroom," Schwartz said, including "teenage mothers, kids coming out of the court system, homeless youngsters."
For the last 16 years, Schwartz has taught at Career Academy, an alternative high school at 24th Street and Maryland Avenue, in a building once part of the original Goucher College campus in central Baltimore.
Its "alternative" curriculum is both academic and job-related, designed for students aged 16 to 21 who may have dropped out of school and now want to return.
"A lot of kids in Baltimore grow up with an array of obstacles in their lives," Schwartz said. "A lot of the city's neighborhoods have been sabotaged by systematic inequities."
The mostly teenage characters in his stories, he said, "betray one another, seek redemption, rescue loved ones, plot hustles, reckon with moral ambiguities, and struggle to find meaning in a city that owes them better."
Lesson: don't give in
And yet what readers will find in his stories, along with the rough times and tough characters, is what the author-teacher said was the main lesson he has learned from his students: "I notice that a lot of the kids at my school don't give in to despair. They continue to strive. That should inspire anybody — a writer or not. It's a testament to the strength of these kids."
The book, which Schwartz worked on for 10 years, will be published in October by the Washington Writers Publishing House.
In a pre-publication review, award-winning Trinidadian-American novelist Elizabeth Nunez, who co-founded the National Black Writers Conference, said this about Schwartz's stories: "Avoiding even the whiff of sentimentality, Adam Schwartz takes the reader into the lives of the characters from disparate racial and socioeconomic backgrounds as they struggle for some sort of normalcy….With its unforgettable characters, The Rest of the World gives us reasons to have faith in the resiliency of young people."
A controversial story
Although several of Schwartz's stories have won awards, some readers have objected to his characterization of Black teenagers.
A column Schwartz wrote recently for the New York Daily News recounted his experience with one of his stories, which was based on a shooting that took place outside his school. The student who was shot survived, and the shooter was sentenced to 20 years in prison.
"I struggled to make sense of what had happened," Schwartz recalled. The story, "Carmen and Ant," he said, "tries to humanize teens drawn into conflicts that sometimes go awry."
The story had been accepted by the Tahoma Literary Review, but a few weeks before publication, a "sensitivity reader" reviewed his story. "If the sensitivity reader was hired to spot problems…he did. 'Stereotypes. Insensitive characterizations. Tinned-eared diction.' These criticisms stung, but not as much as watching my editor's once-solid support begin to crack," Schwartz wrote.
He withdrew the story from the journal, but "Carmen and Ant" was later selected for publication by Raritan, a quarterly journal supported by Rutgers University. It also appears in the short story collection.
Virtual classroom
During the pandemic, Schwartz teaches his students several hours a day from his computer.
"It's a drag compared to the classroom," he said, noting how much he misses the daily give-and-take that happens when he's face-to-face with his students.
Schwartz, who was brought up in a "comfortable" D.C. neighborhood and now lives in Elkridge, Maryland, has a strong connection with his inner-city students.
"One of the miracles of the classroom is that it melts away these barriers of race, class and color," he said. The real values of life emerge there: decency, understanding, equality.
"What we could also learn in the classroom is that we're all essentially the same in what we want — to be loved, to be valued, to be heard," Schwartz said.
Adam Schwartz will offer virtual readings from his book with the following sponsors: Politics and Prose, Oct. 25, 1 p.m.; Ivy Bookshop, Nov. 5, 6:30 p.m.; The Writer's Center, Nov. 6, 5 p.m. For more information, visit AdamSchwartzwriter.org.