Arts
Teaching brings joy to poet, art instructor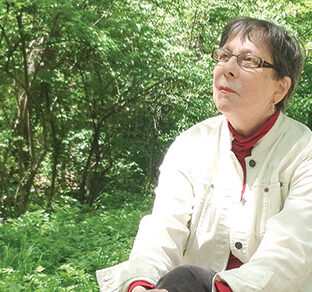 Grace Cavalieri is Maryland's 10th Poet Laureate.
Photo by Dan Murano
"When I teach poetry, I get more energy after the class than when I began. It's the opposite of being drained — it's being hydrated," said Maryland Poet Laureate Grace Cavalieri.
At age 91, Cavalieri is passionate about teaching poetry to students at different universities and schools across the country. "Younger generations are where the energy is," she said.
Cavalieri is the author of 26 books of poetry and fiction and 26 produced plays. She founded the public radio series "The Poet and the Poem" in 1977, now a podcast in which she talks with some of the country's leading poets.
Named Poet Laureate of Maryland in 2018, Cavalieri is still broadcasting, teaching, writing and publishing. She said the poet laureate position "gave [her] a new key to the door, so [she] could access more people."
Cavalieri also co-founded the Washington Writers' Publishing House in 1975, a nonprofit that has published more than 50 volumes of poetry, and holds annual writing contests for writers in D.C., Maryland and Virginia.
Cavalieri also enjoys introducing younger generations to her work through social media. She regularly posts poetry and art to her followers on Instagram, where younger people can view, engage with, and learn from her work. Cavalieri also leads a women's writing group, where members share and collaborate on their poems.
"I believe poets are born wired a certain way, to see the world a certain way through language," Cavalieri said.
She said mentoring young writers is vital. "If we do not pass on what we've experienced, civilization is at risk. You want the next generation to be the ones to hold the record up from the mud, because language is the way that we achieve knowledge and civility."
Teaching at the heart of her art
Like Cavalieri, artist Sue Bikoff also derives energy from teaching art to younger generations.
Founder of Artwork Studio B, located in McLean, Virginia, Bikoff, 66, holds weekly art classes for children five and older. A retired elementary school art teacher, Bikoff said running the studio gives her a way to stay in touch with art.
Bikoff received her formal art training from Brandeis University and from the University of Iowa, the latter of which inspired her career as an artist and teacher.
She especially likes to work with youngsters. She directed the visual arts program
at Hunter's Woods, a Fairfax County arts
magnet school, and taught in D.C. at the Fillmore Arts center, another magnet arts school.
Bikoff has also taught at the Corcoran School of Art, the Smithsonian Institution, the Kennedy Center, and was a visiting lecturer at American University.
Her art has been featured at several local galleries, including the Charles Sumner Museum, the Studio Gallery and the Mansion at Strathmore.
Bikoff's passion for art began at a young age. "When I didn't have paints, I'd take my father's shoe polish and paint with it," she remembered. She believes she "sees things differently as an artist."
One of Bikoff's biggest joys is watching her students go through a period of doubt during a project and then overcome that struggle to create an incredible piece. She finds that some of the best art comes with much labor and frustration.
In addition to a more developed toolkit of skills, Bikoff hopes to cultivate in students a deep, long-lasting love of art. "My biggest joy is seeing art come into my students' lives," Bikoff said.
For example, one of Bikoff's longtime students recently created a curriculum to teach art to underprivileged girls in the Dominican Republic (DR).
The student approached Bikoff for ideas, and together they crafted a week-long curriculum for a camp for more than one hundred girls, who painted a group mural. These are the kinds of ways Bikoff believes art can connect and unify people.
"I love seeing the vibrant work that's done, but my main goal is instilling in students a respect and appreciation for art and aesthetics," Bikoff said. "That's what you're going to live with."