Arts
The Walters celebrates varied arts of Asia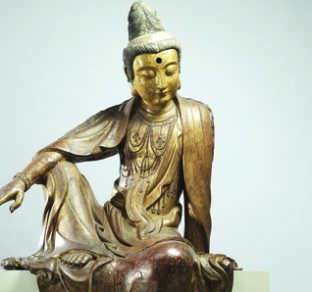 This Chinese Bodhisattva Guanyin, the goddess of compassion, was made in the late 14th to 15th century, and is part of the Walters' new Arts of Asia exhibit. The installation features many religious works of Buddhist, Hindu and Islamic origins.
Photo courtesy of the Walters Art Museum
Stillness, serenity and an air of quiet contemplation are the sentiments evoked by the Walters Art Museum's long-awaited installation, "Arts of Asia."
The visually stunning display of more than 150 works spanning 2,000 years explores the artistic traditions from diverse cultures and regions across India, Nepal, Tibet, China, Korea, Japan, Myanmar, Thailand and Cambodia. The installation includes 30 objects that have never before been on view.
"Asian art has always been a cornerstone of the Walters Art Museum," said the museum's Executive Director Julia Marciari-Alexander, noting that the new installation marks the beginning of the revitalization of Hackerman House at One West Mount Vernon Place, which will reopen in June 2018.
"When it closed in 2014 for building improvements, it gave us an opportunity to take a fresh look at the Asian art collections," said Marciari-Alexander. "I am thrilled to unveil a re-envisioning of 'Arts of Asia' that offers more engaging ways to experience our amazing collections."
According to Amy Landau, director for curatorial affairs and curator of Islamic and South & Southeast Asian Art, the newly installed galleries have been designed to create thought-provoking intimate spaces that inspire pleasure and curiosity.
"The galleries evoke the emotionally charged contexts for these works of art, with elegant design and lively videos that link present-day practices to art of the past," said Landau.
Japanese ceramics
One such space is the light-filled gallery featuring contemporary Japanese ceramic vases with innovative shapes, colors and glazes.
This installation is one of a series celebrating the promised gift to the Walters Art Museum of contemporary Japanese ceramics from Betsy and Robert Feinberg. The  museum has a long tradition of collecting contemporary Japanese ceramics that started with a purchase by founder Henry Walters in 1915.
A tranquil display of East and Southeast Asian art features works linked to Buddhism and its devotional practices from China, Japan, Korea, Thailand, Myanmar and Cambodia. The entrance to this collection is graced by an image of the compassionate bodhisattva Guanyin from late 14th to early 15th century China. A monumental Buddha from 18th to 19th century Myanmar rests in a meditative position in the center of the next room, flanked by sculptures of devotees.
Most of these sculptures and paintings have come to the Walters as a gift from the Doris Duke Charitable Foundation's Southeast Asian Art Collection, and 11 are on view for the first time, following extensive conservation treatment by the Walters Art Museum.
Buddhist and Hindu works 
Also part of this new installation is a collection of Thai sculptures of the Buddha, part of a gift to the Walters from Alexander Brown Griswold, a native Baltimorean who was stationed in Thailand during World War II. The Walters is home to the largest collection of Thai sculpture outside of Thailand.
In the John and Berthe Ford Gallery are works of art from India, Nepal and Tibet. The Fords acquired and donated most of the objects on view. Longtime Baltimoreans and donors to the Walters, the Fords were once recognized in The New York Times as having one of the world's most important private holdings of Himalayan (Nepal and Tibet) and Indian art.
The new display includes South Asian Buddhist, Hindu and Jain religious works; Himalayan bronzes, scroll paintings (tangkas) and ritual objects; and Indian Islamic court arts. Nearly all of these works of art were made for places of worship — from Indian stone temples honoring Hindu gods, to Tibetan Buddhist monasteries where revered teachers gave lessons in secret techniques of meditation.
One of the highlights of this display is the Tibetan scroll painting "Green Tara," which depicts the enlightened Buddha and goddess Tara sitting on a lotus in her mountain paradise. This work is among the earliest surviving examples of Tibetan scroll painting.
New to the Walters' collection of art from India, Nepal and Tibet are works of Islamic art from South Asia, selected to illustrate the religious diversity of historic India through the integration of art from South Asian Muslim courts. An especially noteworthy addition is a 15th-century Qur'an, with exquisite calligraphy in blue, red and gold ink, acquired by museum founder Henry Walters.
The Walters Art Museum is located at 600 N. Charles St., north of Baltimore's Inner Harbor. Museum hours are Wednesday to Sunday, 10 a.m. to 5 p.m., Thursday, 10 a.m. to 9 p.m. For general museum information, call (410) 547-9000 or visit https://thewalters.org. Admission to the museum is free.