Arts
Unique club's place in history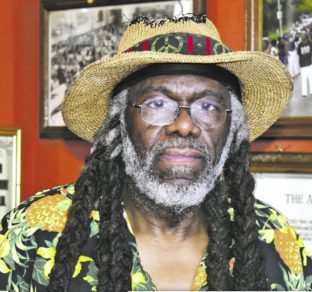 Kaleb Tshamba stands at the historical markers displayed in the Arch Social Club, a Baltimore gathering place for African American men since 1905. Tshamba, the club's de facto historian, is writing a book about its earliest members. Last year, the group won a grant to restore its building, a former vaudeville theater.
Photo by Ivey Noojin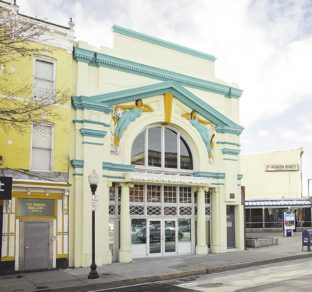 A historic African American men's club is part of the city's new arts district.
Photo by Preservation Maryland
Twenty-one years ago, a Vietnam veteran returned to his home of Baltimore to "give back" to his community. That was when Kaleb Tshamba, now 70, joined the Arch Social Club, first established in 1905.
"Social clubs always build the community up," said Tshamba, the club's de facto historian, who is writing a book about its early history.
For generations, the Arch Social Club, located on Pennsylvania Avenue in the cultural heart of black Baltimore, has been a place for African American men to meet and discuss the issues of the day.
Growing up in Baltimore, Tshamba was familiar with the club. The nearby Royal Theatre — like New York's Apollo — was the site of performances by Louis Armstrong, Pearl Bailey, Cab Calloway, Nat King Cole, Duke Ellington, Billie Holiday and Etta James.
"When I was a little boy, Pennsylvania Avenue was like Las Vegas," Tshamba recalled, with shows, plenty of alcohol and late-night entertainment. "This whole avenue here was our downtown."
Last summer, the area was designated by Maryland as an African American Arts & Entertainment District, entitled to tax breaks and economic incentives to boost the area's restoration, and encourage residential and commercial development.
"This designation helps attract artists and creative businesses, and gives counties and municipalities the ability to develop unique arts experiences that engage residents and attract visitors," Maryland secretary of commerce Kelly M. Schulz said in a statement.
The club's origins
In the early 1900s, the black community needed a place to gather. At the time, the club's founders, Raymond A. Coates, Jeremiah S. Hill and Samuel I. Barney, felt they and others were being harassed by police on the streets, so they found their own building where they could feel safe, according to Tshamba.
At the Arch Social Club, originally located at 23 Arch Street, men played checkers, chess and cards. They hosted music concerts and community theater.
It was also a place to smoke. "In the early 1900s, women wouldn't allow that in the house," Tshamba said.
Members also were able to drink at the club, even during Prohibition, since members who were doctors or preachers could provide alcohol. Members referred to them as "soft drinks" at the time, Tshamba said.
It was also the first club in Maryland to get a liquor license after Prohibition, according to Tshamba.
Helping build community
But the Arch Social Club wasn't just a place to cut loose. Its founders established the first insurance company in Maryland for African Americans.
Members helped open a hospital for the black community during the segregation era, since African American mothers couldn't deliver babies in "white" hospitals.
Club members also fought to bring school bus service to black neighborhoods, and created a black business directory for Baltimore and Washington, D.C.
During the 1950s and 60s, the club was a meeting place for civil rights leaders and activists. It hosted Thurgood Marshall, the first African-American justice of the Supreme Court, and A. Philip Randolph, founder of the first black labor union and organizer of the March on Washington for Jobs and Freedom movement, which successfully advocated for the desegregation of the U.S. military, in 1948.
But by the end of the Vietnam War, the street had changed. Residents started to move out after the 1968 riots that followed the assassination of Dr. Martin Luther King Jr.
"Sometimes you lose a lot of your talent as people begin to move out," Tshamba said.
After Tshamba's tour in Vietnam, he worked briefly with the Black Panthers before returning to Baltimore to do social justice work in his home city.
First, he joined 300 Men, a local group that visits different areas of Baltimore every Friday to discourage young men from joining gangs.
"We're trying to change that culture of violence," Tshamba said.
During the 2015 riots in Baltimore after Freddie Gray was killed, he, along with other 300 Men members, locked arms to create a boundary between the police, who were preparing to throw tear gas, and people on sidewalks, who were throwing stones.
"We almost had a major rebellion out there," Tshamba said.
As the city declared a state of emergency in the spring of 2015, the Arch Social Club provided a place for protestors to rest or use the restroom. "We have no history of violence," he emphasized.
Telling their story
Tshamba officially joined the Arch Social Club in 1998. By 2010, he found his true calling: historical research. He made it his mission to highlight the lives of African Americans who lived in the area in the early 1900s.
"All we hear about is Frederick Douglass and Harriet Tubman," Tshamba said. "We don't hear about other history makers."
To start his research, he looked through the club's membership records, which led to some untold stories.
The project led Tshamba to start writing a book in 2016. It hasn't been published yet, but he plans to get Early Prominent Members of the Arch Social Club on local bookshelves soon.
"It's like you're digging in the ground," Tshamba said of his research. "You get excited."
The club, located next to a Boost Mobile and the Penn North Metro Station, is much more than it appears.
With white block letters and tan pillared exterior, its building — originally a vaudeville theater — stands out against the light-blue colored buildings on the street.
It still pays homage to the block's blue theme, though, with blue details on the columns, a blue curtain in the half-circle window, and blue dresses on the two female statues lounging against the window in Greek-like fashion.
"Many people get us mixed up with a night club or a gentleman's club," Tshamba said with a smile.
Just past the main entrance, there's the Raymond Coates Lounge, named in honor of the club's first president, with a bar where men can sit around, drink and just talk, according to Tshamba.
The club's Billie Holiday Room has a stage with dozens of small tables. The club hosts a dance every week in this room. They also host concerts twice a month and jazz sessions several times a year.
Various renovations are currently underway. Workers will enlarge the bathrooms and kitchen, move the offices upstairs and refinish the hardwood floors. With the help of a grant from the National Trust for Historic Preservation, the club is even adding a marquee over its entrance.
A new generation
Tshamba, however, is focused on recruitment. The club's youngest member is 30 years old, while its oldest is 94. Half of the men are veterans like Tshamba.
"For this club to survive, we need younger men," Tshamba said.
To that end, every Saturday, the club hosts an educational program for youths. It oversees community beautification projects, volunteer visits to help older adults, and anti-bullying programs.
It has also formed a network of club members who try to promote health, education and economic cultivation in the neighborhood.
Tshamba said he plans to remain part of the Arch Social Club for as long as he can, writing everything down for the history books.
Correction: The print version of this story stated that the U.S. military was desegregated in 1941. In fact, it was desegregated in 1948. In addition, A. Phillip Randolph was co-founder of a movement whose full name was the March on Washington for Jobs and Freedom. We regret the errors.