Arts
Working-class bar is the set for "Sweat"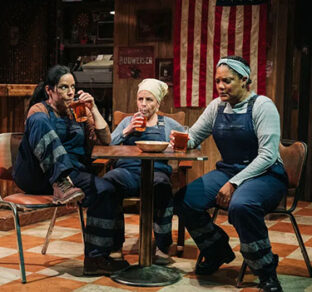 Susan Marie Rhea, Santina Maiolatesi and Lolita Marie play factory workers who commiserate and celebrate at a Pennsylvania bar in the Keegan Theatre's production of "Sweat." The Pulitzer Prize-winning play about working-class Americans runs through Sept. 16.
Photo by Cameron Whitman Photography
Perhaps the best way to learn about the dreams and betrayals of working-class families is to eavesdrop at a bar.
At the bar in the play Sweat by Lynn Nottage, at D.C.'s Keegan Theatre through September 16, everyone knows your name — and all of the rest of your messy business.
The set for most of the play — a bar with a prominent American flag — might as well be another member of the outstanding ensemble cast.
Sweat premiered at the Oregon Shakespeare Festival in 2015. Just two years later, it had made it to Broadway and won the Pulitzer Prize for Drama.
The play follows several families who unwind at a bar after work at a factory in the town of Reading, Pennsylvania. John Townson plays Stan, the white bartender, with warmth and feet on the ground, even if one of those feet is wrecked from the accident that forced him out of the factory.
"Best thing that ever happened to me," he says, since it allowed him to gain perspective on the overwhelming presence of the steel mill. He listens, commiserates, flirts.
Friends Tracey, Cynthia and Jessie celebrate their birthdays at the bar, as well as other days. They work and play hard.
Cynthia, a black woman with 24 years at Olstead's Steel Tubing, played skillfully by Lolita Marie, is a woman who can beat back hard times.
Tracey (Susan Marie Rhea), a white woman, has worked "since she could count." She is blunt, territorial and loyal. But there's a blind rigidity to her swagger that will prove dangerous to herself and others.
The play moves easily between two time periods, telling the story of a black family and a white family during two U.S. presidential elections.
In 2000, former friends and co-workers Chris and Jason, the sons of Cynthia and Tracey, are released from prison. By 2008, however, life for all characters in the play has taken a nosedive.
Radio news announcements mark time, mentioning NAFTA, presidential elections, the housing bust, and stock market ups and downs. I had some trouble tying these brief mentions back to the lives of the characters.
Racial and economic issues
Chris and Jason gained entry into the factory via their mothers. It is an "inheritance" closely guarded, since factory jobs provide solid salaries for people without college educations. For the white characters this inheritance reaches back three generations.
Because of union discrimination, however, black workers in the play have struggled to get in the door, bringing in their second generation to share the American Dream.
In 2000, Jason (Bowen Fox), who is white, assumes that his job will last forever. When that turns out not to be true, Fox deftly changes the carefree Jason into a character who, eight years later, is a wary and fearful parolee, complete with racist facial tattoos.
Jamil Joseph's Chris, who is black, has a greater hunger to explore the world. Chris dreams of college, while Jason scoffs at an education that would lead to a lower paying job outside the factory.
The play, directed by Angelisa Gillyard, does not apologize for the characters' racial anxiety. Characters don't overcome their racism just because its consequences devastate.
Racism and class surface when Cynthia is promoted to management. Suddenly, Tracey, who had sung her friend's praises, now gripes about affirmative action.
Rhea is at her most compelling when Tracey lovingly recalls her grandfather's skill, how it was appreciated, how his position in the community elevated her. But then she denies that someone of a different racial or cultural group has the right to similar memories or experiences.
Is this the kind of bar where everybody knows your name? Not quite. Discrimination comes in more colors than black and white.
Steadily, quietly working in the bar, listening, is busboy Oscar (Andres F. Roa), from Colombia. He'd like a chance at that good factory money too, but Tracey snarls, "It's not for you." Door closed.
The factory management's move to break the union with lower-paid, Spanish-speaking workers, combined with the desire of those workers to open that door, precipitates an act of violence in the second act that's been building throughout the play.
The Keegan is an intimate venue. Scenes outside the bar can be overwhelmed by the small space. Initially, I was confused why the attentive parole officer Evan (Deimoni Brewington) met parolees in the bar until I realized the table doubled as his office.
The cast of Sweat wonderfully enacts these American stories in all of their complexity, heartache and resilience. Largely unspoken is the idea that it is those characters with the insight to recognize that complexity themselves who have the greatest chance of surviving.
Sweat runs at the Keegan Theatre, 1742 Church Street, NW, Washington, DC through September 16. Performances are Thurs.-Sat. at 8 p.m.; Sun. at 3 p.m. Tickets are $50 (less when you buy as part of a package).
The Theatre is three blocks from the Dupont Circle Metro Station on the Red Line. Parking in partnership with the 11 Dupont Circle parking garage (at 1616 P St., NW) is available.
This play contains violence and strong, offensive language. It is not for children. For more information, see keegantheatre.com.